The E5−Enticing, Engaging, and Empowering Emerging Engineers program at Allan Hancock College provides female engineering students with the support and resources to successfully transfer to a four- year university and achieve their full potential as engineers and as leaders. Through peer, faculty, university, and industry partnerships, the E5 program connects students to a PA2T♀H network supporting their professional and academic advancement.
PA2T ♀ H Network – Professional & Academic Advancement for Technical Females at Hancock College
Professional networking
Peer and faculty support
Mentorship and skill development
Career advancement activities
Scholarship and internship opportunities
Fall 2023 Activities
Date & Time / Location

Topic

Friday, September 8 at 2:30pm

M-502

Welcome Back Mixer

Friday, September 22 at 3pm

M-502

E5 Informational Meeting

Come learn about what the program has to offer and get connected with other ladies pursing majors in engineering, computer science and architecture.

Monday - Saturday, October 9-14

Various times and sessions

Virtual Conference

International Latina Engineer Week (ILEW) 2023 Conference

This conference gives students and professionals access to an amazing network of Ingenieras help them overcome the struggles that minorities face in STEM fields.
As part of ILEW, you can find virtual live sessions, career opportunities, a mentoring program, scholarship, and more. Our conference host both virtual and in person events!
Conference is free of charge!
Click here to register

Friday, October 20 at 2:30 pm

M502

Guest Speaker - Yoshi Jimenez - AHC, Cal Poly Alumni

Friday, October 27 at 2:30 pm

M502

Meet our Career Coach- Marc Carson

Topic: Developing Mentorships

Friday,November 17 at 10am -1pm

Meet in M500 for departure

Field trip to Melfred Borzall - first come, first serve. Please reserve your spot by emailing Angelica at aenriquez@hancockcollege.edu

Friday, December 1 at 12 pm

M502

E5 Mixer, Join to learn tips for finals and to connect with your peers over lunch!
To RSVP for an E5 activity or for more information, please contact Angelica Eulloqui at aenriquez@hancockcollege.edu .
---
BHW Scholarship
https://thebhwgroup.com/scholarship
The BHW Scholarship offers $3,000 to a female student pursuing an undergraduate or master's degree and majoring in science, technology, engineering, or mathematics. This scholarship is offered by tech firm The BHW Group in Austin, Texas.
Scholarship America's Dream Award
https://scholarshipamerica.org/students/browse-scholarships/apply-for-the-dream-award/
This program offers renewable scholarships to sophomores, juniors, and seniors who demonstrate financial need. Applicants have to be at least 17 years old; U.S. citizens, permanent residents, or granted deferred action status under the Deferred Action for Childhood Arrivals program; have a cumulative GPA of at least 3.0 on a 4.0 scale (or the equivalent); and plan to enroll in an accredited two- or four-year college, university, or vocational-technical school.
Science Ambassador Scholarship
https://www.scienceambassadorscholarship.org/
This scholarship is awarded to the female STEM student who creates a winning three-minute YouTube video on the STEM subject of her choosing. Offered by the makers of Cards Against Humanity, the scholarship covers a full ride at the winner's chosen college or university. Additional partial scholarships are also offered.
SMART Scholarship
https://www.smartscholarship.org/smart?id=smart_index
This scholarship from the U.S. Department of Defense is pretty incredible and covers the full cost of tuition up to $38k. The SMART Scholarship is open to students who are citizens of the United States, Australia, Canada, New Zealand, or United Kingdom at time of application, at least 18 years of age, able to complete at least one summer internship (if interested in a multi-year award), willing to accept post-graduation employment with the DoD, and pursuing a technical degree in one of the 21 STEM disciplines prioritized by the DOD. (See the site for details. Awards are available for undergraduate and graduate students.
Institute of Industrial & System Engineers
https://www.iise.org/Details.aspx?id=857
IISE's Scholarships and Fellowships Program recognizes graduate and undergraduate industrial engineering students for academic excellence and campus leadership. The nominee's scholastic ability, character, leadership, and potential service to the industrial engineering profession are all considered by the scholarship fund trustees when selecting the scholarship recipients.
UPS Scholarship for Female Students
https://accessscholarships.com/scholarship/ups-scholarship-for-female-students/
This award is for female students who are studying industrial engineering. Schools may be located in the U.S., Canada, or Mexico
American Airlines/Women In Aviation Engineering Scholarship
https://www.wai.org/scholarships
Women looking to pursue a career in aeronautical, electrical, or mechanical engineering within the airline industry are welcome to apply for one of these four awards. Applicants must be members of Women in Aviation to qualify.
Willis H. Carrier Scholarships
https://www.ashrae.org/communities/student-zone/scholarships-and-grants/undergraduate-engineering-scholarships
Two one-year $10,000 undergraduate engineering scholarships available annually. Scholarship was established by The Carrier Corporation in memory of its founder, who's known widely for his numerous and significant contributions to establishing air conditioning as an industry. Carrier installed the world's first scientifically designed air conditioning system in 1902.
Gordon V. R. Holness Scholarship
https://www.ashrae.org/communities/student-zone/scholarships-and-grants/undergraduate-engineering-scholarships
One-year scholarship established by and named for a former ASHRAE President (2009-2010). Presidential Theme: Sustaining Our Future by Rebuilding Our Past
Reuben Trane Scholarships
https://www.ashrae.org/communities/student-zone/scholarships-and-grants/undergraduate-engineering-scholarships
Three two-year $10,000 undergraduate engineering scholarships awarded $5,000 per year over two years. Scholarship was established in memory of The Trane Company founder, an engineer, inventor & business executive, whose manufacturing enterprise ranks today as one of the world's largest in the HVAC&R industry.
Lynn G. Bellenger Scholarship
https://www.ashrae.org/communities/student-zone/scholarships-and-grants/undergraduate-engineering-scholarships
Scholarships are awarded to undergraduate engineering or pre-engineering students who are enrolled full-time in a course of study that traditionally has been a preparatory curriculum for the HVAC&R profession. Must have a GPA of 3.0 or higher
Palantir Women in Technology Scholarship
https://www.palantir.com/careers/students/scholarship/wit-north-america/
Ten winners are selected for awards through the Palantir Women in Technology Scholarship. Applicants must be women pursuing degrees in computer science, engineering, or technical studies
Nutanix ♥heart Advancing Women in Technology Scholarship Program
https://www.nutanix.com/scholarships
In 2018, Nutanix created the Advancing Women in Technology Scholarship program, designed to help future tech leaders to pursue and complete their education goals. We are offering up to ten scholarships to students in the United States, India, Netherlands, Germany, Spain, United Kingdom, France, Australia, and Mexico who want to apply their passion for technology while advancing women in the field to make a positive impact on the industry and the planet.
Society of Women in Engineering Scholarship
https://scholarships.swe.org/applications/login.asp
The SWE Scholarship Program provides financial assistance to those who identify as a woman and are studying community college, baccalaureate, or graduate programs in preparation for careers in engineering, engineering technology and fields related to engineering. In 2022, SWE awarded nearly 330 new and renewed scholarships valued at over $1,700,000!
Primary factors why females feel they succeed in Engineering
Christine Reed, Fall 2016 sabbatical research project
They believe there is no option of failure; they must accomplish their goal to provide a better future for their family and themselves
They believe that if they work hard, anything is possible; it's not a matter of predetermined natural talent
They believe in their ability to overcome challenges and finish what they start
They don't accept prevailing cultural norms as limitations or let it affect their confidence levels, but use it as a driving force
They are comfortable being an outsider and of the minority
They recognize that finding interest in certain topics of engineering serve as reminders of their passion for the profession
They engage in resources and strong support systems
They have other females to lean on and for which they can gain strength and motivation
I experienced different communication styles many times between my male peers and me. It just didn't seem to match. But they needed diversity – a woman's perspective. They needed a splash of pink in the project. And it paid off in the grade we received as a team.

Cesia Cazares
AHC MESA/Cal Poly MESA Alum Mechanical Engineering
Spring 2018 AHC Female Engineering Students Attend: WIN THE FUTURE
by Christine Reed, MESA Counselor/Coordinator
On March 17 2018, five Allan Hancock College female students studying engineering attended the fourth annual Silicon Valley Women in Engineering conference titled WIN THE FUTURE. This one-day learning and networking experience for students, professors, and women leaders is hosted by San Jose State University and is packed with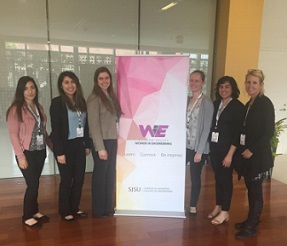 Tech Talks, professional development workshops, career panels, and an Innovation Showcase. Keynote speakers included Maggie Johnson - Director of Education at Google, Darlene Solomon – Chief Technology Officer at Agilent Technologies, and Lakecia Gunter – Chief of Staff & Technical Assistant to CEO at Intel.
Workshops offered learning experiences on assertive communication, winning future jobs, interpersonal skills in the workplace, negotiations skills, and planning for career success. Information was presented on emerging technologies such as energy generation and management, cybersecurity, wearable and medical devices, augmented/virtual reality, disaster response and warning, smart transportation, next-generation diagnostics, artificial intelligence, smart homes and manufacturing, and personalized medicine.
For more information on this conference visit http://siliconvalleywie.org/