Board of Trustees
Current Trustees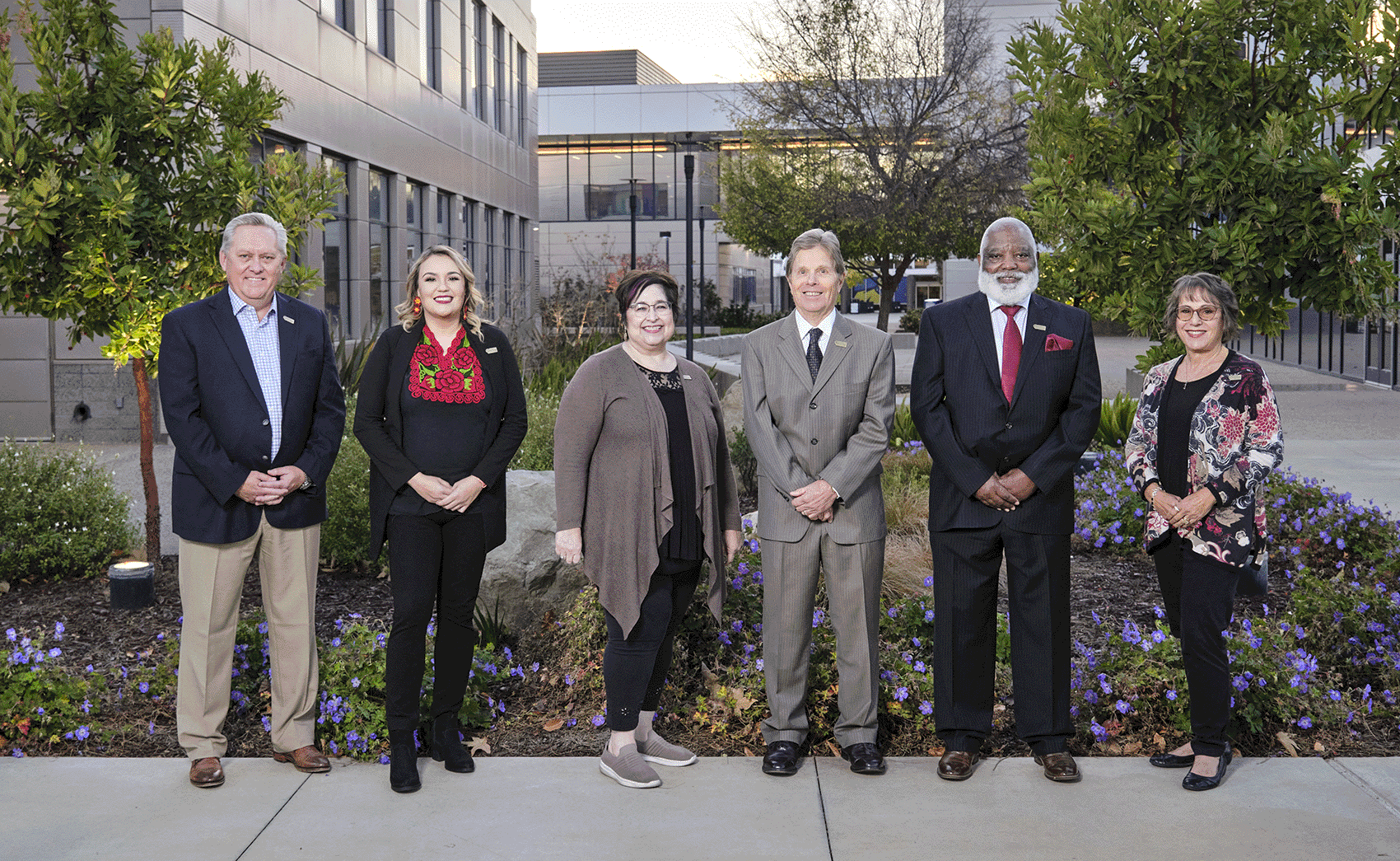 President of the Board, Greg Pensa, was elected in November 2010. He represents Area 5, which includes the Santa Ynez Valley, northern Lompoc Valley, and east Santa Maria. Mr. Pensa earned an associate degree in business management from Allan Hancock College and a bachelor's degree in telecommunications & film from San Diego State University. Pensa retired after working in petroleum marketing for 37 years. Pensa is past president of the Valley Foundation, Solvang Friendship House, Santa Barbara County School Boards Association, Buellton Business Association, and the Rotary Club of the Santa Ynez Valley, where he has enjoyed over a 40+ year membership and is a recipient of the Rotary Paul Harris Fellow. Additionally, he is a founding member and former treasurer of the Indigenous Development Coordinators (IDC) Foundation, a philanthropic organization working with the needy in the Philippines, as well as, past president and a founding member of the Valley Haven Senior Day Care Center. Pensa was selected by the Santa Ynez Valley Foundation as the "Man of the Year" for 2013. His past educational service includes serving on the Allan Hancock College Foundation Board from 2001-2010, a trustee for the Solvang School District from 1988-1998, and a member of the State Board of Trustees (CCCT) since 2018. Pensa is also known as the "radio voice" of Santa Ynez Valley High School "Pirate Football" since 1983.
Vice President of the Board, Hilda Zacarías was elected for a four-year term in November 2012 to represent Area 1, which includes northern Santa Maria. She is a local certified public accountant and organizational management consultant. She was recognized as one of 75 Distinguished Alumni during the 75th anniversary of Allan Hancock College and received the Distinguished Service Award from Cal Poly State University. In 1993, she was the youngest person appointed and then elected to the Santa Maria Joint Union High School District Board of Trustees, serving five years. Ms. Zacarías was elected in 2006 to the Santa Maria City Council and in 2010 was the Democratic nominee for the State Assembly. Ms. Zacarías completed her general education at Allan Hancock College, graduated with an accounting degree from Cal Poly, San Luis Obispo, and received a Master's degree in Public Administration from the Harvard Kennedy School in 2006, which she attended as a Presidential Scholar Fellow.
Dr. Suzanne Levy, representative for the south Santa Maria and Orcutt, was elected to a four-year term in November 2020. Levy spent 13 years (1990-2003) at Hancock as a professor of computer science before moving on to work as a program manager for Brandman University from 2003-2005 and as a Continuing Medical Education Specialist and Training Specialist for Dignity Health from 2012-2018. She is currently retired. Levy has held positions on the boards of numerous community organizations, including serving on the Board of Directors for PCPA, the North County Women's Fund, and the Santa Maria Valley Discovery Children's Museum. Levy also served as the coordinator for the North County Math Superbowl and as a member of Hancock's Math Engineering, Science Achievement (MESA) Committee. Levy was named "Woman of the Year" for Santa Barbara County District 5 in 2001. Levy earned a bachelor's degree in teaching mathematics from the University of Illinois, a master's degree in electrical and computer engineering from the University of California, Santa Barbara (UCSB), and a doctorate in education from Fielding Graduate University.
Ms. Alejandra Enciso was appointed on June 15, 2021 and then elected for a four-year term in November 2022. Ms. Enciso currently works as the program director for Community Partners in Caring and is the co-owner of Revolution Choreography in Santa Maria. Enciso served as a board member for the Future Leaders of America (FLA) and is currently serving on the board for Danza Azteca Coaxochitl. Enciso was born in Santa Maria and raised in Guadalupe. She is a first-generation Latinx-American and a first-generation college graduate. Enciso graduated from Allan Hancock College with an associate degree in liberal arts and received a bachelor's degree in fine arts from California State University Northridge (CSUN). Enciso's lifelong goal is to educate others about her culture and advocate for equality and justice.
Jeffery Hall was elected to represent the Lompoc Valley as the Area 4 Trustee in November 2016. During his 10 years of service with the U.S. Army, Hall served two tours of duty in Vietnam. He was then employed with the Federal Bureau of Prisons for 22 years and worked as a substitute teacher while living in Miami, Florida. After moving to Lompoc, Hall was employed with the Santa Barbara County Probation Department for 15 years. Upon retiring from the county, he became a contract facilitator for Santa Barbara County Department of Social Services. Hall received an associate degree from Los Angeles Harbor College, a bachelor's degree from St. Leo University, and studied for a master's degree in Psychology at Nova Southwestern University. Hall also earned a certificate in Addiction Studies from Allan Hancock College. He is now enjoying retirement and is actively involved in the NAACP, Lompoc Valley Democratic Club, and the Santa Barbara County Democratic Party Central Committee. In 2018, Hall was nominated for the 9th Annual Valley of Flowers Peace Prize.
Oscar Rivera is serving as the Associated Student Body Government (ASBG) student trustee for the 2023-2024 academic year. He is majoring in Business Administration with aspirations to transfer to Cal Poly Pomona. His eventual goal is to work in Washington, DC, for the United States government.
Oscar has a strong drive to represent and advocate for Hancock students and ensure their voices are heard. As a student trustee, he is delighted to have the opportunity to serve the campus community. His current goal is to work for the betterment of others, bringing equity, awareness, and legitimacy to all.