Discover your career path at AHC today!
Welcome back to campus Bulldogs!
SCHEDULE AN APPOINTMENT TO MEET WITH A SPECIALIST
SCHEDULE A CAREER COUNSELING APPOINTMENT
Internships
The Career Center helps to place students in paid or unpaid internship opportunities. Students gain valuable work experience while applying classroom lessons.
Job Referrals
Career Center staff collaborate with faculty and industry recruiters to connect students with career opportunities as they become available.
Readiness Workshops
Participants meet in individual, small group or classroom workshops to learn resume writing, interview techniques, and Dress 4 Success at the Career Center lab.
Career & Alumni Connect
Career Center staff partners with industry members to invite employers to connect with students and alumni on campus through classroom presentations, breakout sessions, career demonstrations, and speed recruiting events called Ready, Set, Go!
Career Closet
The Associated Student Body Government (ASBG) and the Career Center have established the Career Closet. The Career Closet offers new and gently used professional business attire for interviews at no cost to students in need. Interested students can receive more information regarding the program at the Career Center.
Career Readiness Academy (CRA)
CRA is a 12-week, intensive hands-on training program focused on 21st century employability skills. The CRA is co-facilitated with help from area business and industry leaders.
SkillsUSA
SkillsUSA is a national organization focused on champions at work. AHC SkillsUSA students are encouraged to participate and further build career and leadership skills.
Cooperative Work Experience (CWE) Internships
CWE internships combine a student's academic and career interests with productive work experience. Students earn transferable college credit while working in full-or part-time jobs or unpaid/volunteer positions.
CTE Junior Day
Career Technical Education (CTE) classes visit the Santa Maria campus to meet with instructors, career counselors and Career Center staff to learn about CTE programs at the college. Students also receive career readiness training during their half-day visit.
Skills USA Team and Advisors 2020-2021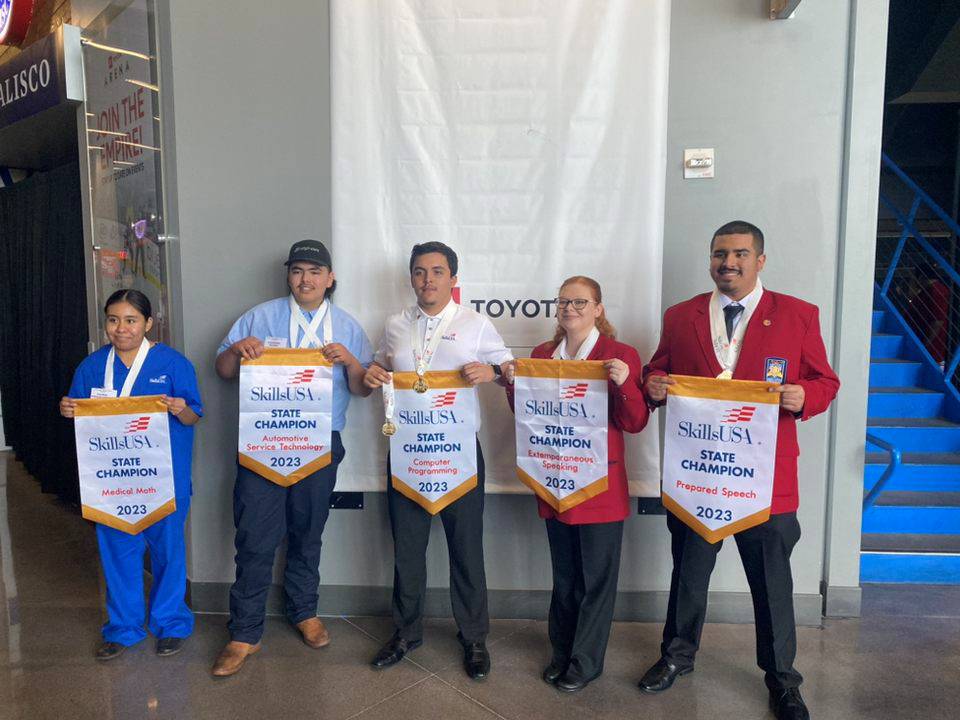 Contact Us
Student Services Building A, Room A207
800 South College Drive
Santa Maria, CA 93454-6399
1-805-922-6966, ext. 3374
Hours
Monday & Tuesday: 8 a.m. to 6 p.m.
Wednesday & Thursday: 8 a.m. to 4:30 p.m.
Friday: 8 a.m. to 4 p.m.
Hours of operation are subject to change.