Health Service Questions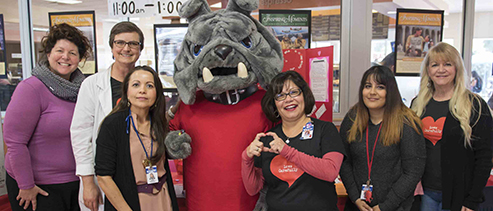 What does it cost to use health office services?
Most professional services provided to students in the health office are free of charge. Outside services such as laboratory testing or referrals are not covered.
What can you do for me in the health office?
Our services include treatment for minor injuries and illnesses. Over-the-counter medications such as Tylenol and Ibuprofen are available free of charge. Personal counseling services are available on a short-term basis. We can make referrals to community agencies or help to find appropriate local resources to help with your more acute or chronic medical problems.
Who can use the health office?
All currently registered students in credit courses can be seen and treated by the health office staff. In addition, the health office provides basic first aid services for staff and visitors, and Tuberculosis testing for AHC students.
Can my family use the health office services?
Because the Student Health Services is directly supported by the health fee, we can only treat registered students.
Who provides the care in the health office?
Our staff consists of registered nurses, office services technician I and (1) health promotion specialist, (2) medical assistants and (2) marriage and family therapist, and interns. In addition, we have other medical providers which include nurse practitioner and physician services available for students by appointment.
Can I get health insurance through the health office?
Allan Hancock College provides an accident insurance policy, with limited benefits, for students who are injured on campus or during a college sponsored activity. In addition, the health office has information on sickness/accident and dental insurance plans available for purchase.
What is the Health Fee that I pay every semester, and what do I get for it?
Each registered student in credit courses are assessed a $21 health fee ($18 in winter intercession/summer session) as part of his or her regular registration fees. All health fees collected are used exclusively to provide health and wellness services and personal counseling services.