Transportation Resources
Free SMAT Pass with Bulldog Go!
UPDATE: Due to technological issues with the SMATPay App, please read the following steps to ride the SMAT bus until the issue is fixed.

Bus drivers have been made aware of the situation and have been informed to let students on after presenting their student ID cards. NO TICKETS ARE REQUIRED TO BOARD FOR STUDENTS FOR THE TIME BEING.
Future correspondence will be sent out regarding the mobile ticketing app.

Please reach out to the Basic Needs Office at basicneeds@hancockcollege.edu or ext. 3011 with any questions, comments, or concerns.
Allan Hancock College is partnering with the Santa Maria Area Transit (SMAT) to offer free student bus passes to all currently enrolled Allan Hancock College students starting Fall 2021!
Read below for more information about this program.
How do I ride?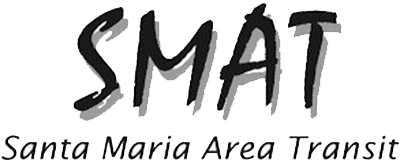 Follow these steps to ride the SMAT bus for free!
Download the SMATPAY app on the App Store or Google Play
Sign in using your my.hancockcollege.edu email address
Click the "Tickets" tab at the bottom.
Swipe one screen over to view the QR Code for your free bus pass!
Show this pass to the bus drivers to ride for free!
How does it work?
Via the new SMAT Pay mobile ticketing app, students can ride anywhere SMAT buses go and anytime they operate. The SMAT Pay mobile ticketing app is available for download on the App Store and Google Play. Please check your Hancock student email for updates on when students are eligible to use it.
With friendly drivers and a safe environment — and now free rides — SMAT is a great option for travelers headed to to and from campus. Students can use the Bulldog Go! app to get to the library or take advantage of other on-campus study spaces. Plus, there's comfortable seating, real-time bus information and free Wi-Fi service to make the ride even better. Bikes and skateboards on the buses are welcome!
The free rides are made possible through the college's partnership with SMAT's Low Carbon Transit Operations Program (LCTOP). Funding for Bulldog Go comes from an air quality grant that provides public transit support for projects that help reduce greenhouse gas emissions and improve mobility while ensuring access to higher education opportunities for the community.
Please note that this program is only for the SMAT Bus and does not include the Breeze bus, RTA, or COLT services.
Check out the SMAT Bus routes and schedules
Questions? Contact the Basic Needs Office at basicneeds@hancockcollege.edu or (805) 922-6966 ext. 3011
---
Other Resources