Open Educational Resources (OER)
Open Educational Resources (OER)
What are OERs?
"Open Educational Resources (OERs) are any type of educational materials that are in the public domain or introduced with an open license. The nature of these open materials means that anyone can legally and freely copy, use, adapt and re-share them. OERs range from textbooks to curricula, syllabi, lecture notes, assignments, tests, projects, audio, video and animation." (UNESCO).
OER repositories search engines
Apart from using a search engine, another way to find resources is to use dedicated OER sites often called OER repositories or referratories(Websites that link to resources contained within repositories). These are particularly useful if you are looking for OER for a specific subject or topic. OER content sites that provide instructional resources for students and teachers include:
Open Licensing and Creative Commons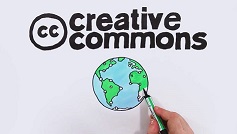 Creative Commons (CC) is an internationally active, non-profit organization that provides free licenses for creator to use so they can make their work available to the public. These licenses allow the creator to give permission for others to use their work under certain conditions.
OER- Instructional resources for students
Massive Open Online Courses(MOOCs)
Massive Open Online Courses (MOOCs) gives anyone with an Internet connection the opportunity to take a K-12 workplace, or university level course online at no cost.