Bond Projects
Building D Repairs & Upgrades
Work was done to address many deficiencies in building D (Performing Arts Center), with the major focus being ADA renovations; door and hardware replacement; interior and exterior painting; restroom, dressing room and lobby upgrades for code compliance; fire alarm replacement to meet current state requirements; electrical upgrades; roof replacement; in-building water and gas piping improvements; HVAC upgrades; and replacement of the non-state approved catwalk. Completed September 2013.
Industrial Technology and Physical Education /Athletics Fields Project
This project consisted of an approximately 35,000 square-foot industrial technology complex and new synthetic running track and practice fields for football and soccer, as well as a new baseball field. Two new buildings and a remodeled building O provide space to consolidate all industrial technology disciplines: architectural drafting, electronics, viticulture/enology and automotive, auto body, engineering, welding and machining & manufacturing technologies. Bldg. O was completed late fall 2013, in time to offer spring 2014 classes in the new facility.
The first new athletic facility to come online was the baseball field, which was relocated across College Drive, next to the softball field. It was rededicated John Osborne Field on Jan. 26, 2013, with a brief ceremony, a first pitch thrown by Osborne, and an alumni game.
The new running track, football practice field and soccer fields were completed in late September 2013.
Student Services Center (SSC)
This project consisted of constructing a new 44,788 square-foot, two-story student services building (building A) and a new 21,053 square-foot, two-story administrative building (building B) with associated on- and off-site improvements targeting LEED Silver Certification. In addition, the project developed a new North Bradley Road driveway, northeast loop road and parking lot in accordance with the board-approved 2008 Bond Measure I Facilities Site & Utilities Master Plan. The project also included the demolition of the old buildings A, B, I, N-Annex, T, U, V and X. The project was completed in mid-October 2013.
Public Safety Training Complex
This project consisted of a 36,678 square-foot academic building; 8,568 square-foot, six-story fire tower; 12,286 square-foot apparatus storage building; 42,406 square-foot shooting range; scenario village; prop house; fitness track; skid pad/slow speed driving skills area; and a one-mile emergency vehicle operator course (EVOC). The complex was constructed at the Allan Hancock College Lompoc Valley Center and was partially completed late fall 2013. The shooting range is in construction.
Childcare Center Lab Addition
This project opened for spring classes on Jan. 22, 2013. Formerly known as the Children's Center, bldg. J, the new facility has been rechristened bldg. I, Early Childhood Studies.
The new facility contains nearly 12,000 square feet of additions, including a new, approximately 8,900 square-foot building and 2,700 square feet of canopies and overhangs to the former building J. The addition replaced building Z, which was demolished upon completion of the new facility. The project provides additional classrooms to accommodate the increased number of children that were housed in building Z. The project serves as a hands-on learning lab for students in the early childhood studies degree and certificate programs.
Community Education Building

This 18,482 square-foot building opened to students in fall 2007. It consolidates all Community Education functions, along with a computer lab, ESL classrooms, a culinary arts professional teaching kitchen and offices for noncredit counseling. Measure I funding helped complete the facility.
Science Building


The 44,302 square-foot building opened to students in fall 2007, offering state-of-the art classrooms and labs to students studying life and physical sciences (i.e., anatomy, biology, chemistry, geology, physical sciences, physics, etc.) and health sciences (i.e., nursing, medical assisting and dental assisting). The Math Center is also located in this building. Incorporation of a cold storage room has made possible a hands-on advanced anatomy class using a human cadaver - an opportunity not available at even most four-year universities. Measure I funding helped complete the facility.
Academic Resource Center

This project involved a renovation of the existing library and a two-story addition that houses student support functions, including the Tutorial Center, Writing Lab, speech practice space, Distance Education classrooms, open access computer lab and more. Measure I funding helped complete the facility, which opened to students in January 2007.
Theatre Arts Complex
This project is a bid alternate to the Fine Arts Complex. The concept design, including remodeling building F, demolishing building E and constructing a 19,600 square-foot, stand-alone structure in its footprint.
Technology & Instructional Equipment Modernization
Measure I funds provide about $1 million per year for 10 years for Allan Hancock College to modernize classroom and lab technology, providing such innovative equipment as science lab oscillators, music class synthesizers, smart boards, course management software, CAD computers and software, audio/visual equipment, automotive training units, student response units, student computer labs, a new Hancock website design and more.
VOIP Equipment Project
The Voice over Internet Protocol (VoIP) project brought a cutting-edge phone system to Allan Hancock College. It provided an easy to use phone with a computer-based application that expands the communication options. Special features included Enhanced 911 support, speech recognition, paging, conference bridge and fax services. All locations and users were on the new phone system mid-August 2012.
This project installed copper cabling in existing conduit on the east side of campus and installed conduit to building D and from building L west to the northeast corner of parking lot #8. This project re-routed copper wire as needed for the new buildings, replaced old wiring and installed wiring where missing. The copper wiring is used to support emergency phones, fax machines and backup phone lines.
"Phoenix" Mainframe Replacement Project
This $6.5 million project was a six-year total replacement of the college's 25-year-old, inadequate data system that maintained all records, including student, employee and business applications. Measure I funding provided a new student system, "Banner," and many decades of data and records were converted over to modern server technology. Additional completed components of the new system include a new online registration system, 24/7 web portal for students and staff to access information directly, and a student financial aid system. This project also moved the human resources system from the mainframe to servers running an Integrated Financial and Administrative Solution, IFAS. The most recent and final component of this project was an online Degree Audit and Student Education Planner program called Degree Works.
Santa Ynez Valley Center Computer Lab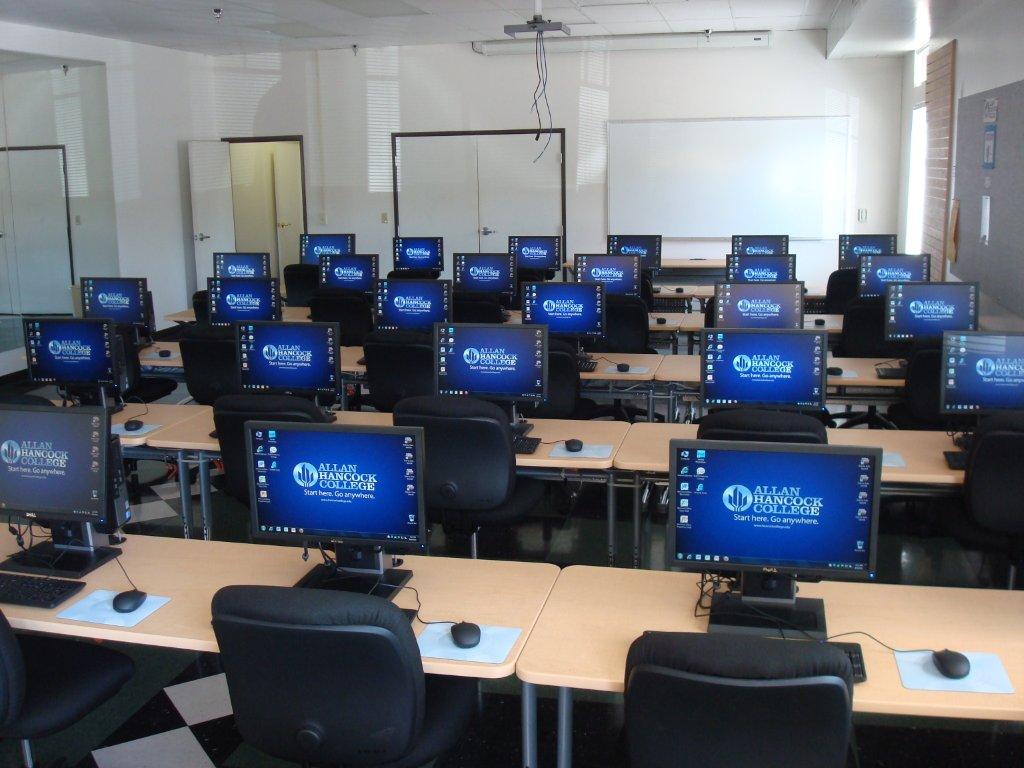 This $200,000 project opened in fall 2011. It involved renovation of an existing classroom at the Santa Ynez Valley Center. Interior infrastructure work involved installing a high-speed data network and all required wiring and cabling to support the new equipment. The space was furnished with new computers, monitors, printers, audio/video equipment, ceiling-mounted data projectors, and a smart podium, along with new tables and chairs to accommodate 30 students. The lab also includes a security video system, and it is ADA-compatible. Both credit and Community Education (noncredit) courses are offered in the lab.