Hancock is changing the odds for our community!
Changing the odds means removing barriers to higher education at Allan Hancock College. We do this at multiple levels:
Institutionally: When we work with our community partners (K-12, businesses, universities, and non-profit organizations) we remove barriers for our diverse population. In Santa Maria, 40 percent of adults over 25 don't have a high school diploma. We are building a local college-going culture through programs like the Promise, Promise Plus, Bulldog Bound, the PCPA Outreach Program, and partnerships with local agencies such as the YMCA and Boys and Girls Club.


Programmatically: We are building a colllege-going culture by creating pathways to degrees and certificates that are simple to navigate. Whether a student is interested in an associate degree or certificate, transfering to a university, or training for a career - we help students find their path. Our counselors intentionally guide students forward, offering resources like financial aid, health programs, and other student support services.


Individually: Faculty, staff and administrators remove barriers for students every day. Whether it's adding a personal touch to help a student learn, supporting the college's Food Share Because We Care program, walking students through the Hancock applicaiton process, or simply offering a warm smile - we are changing the odds.
Meet some of our recent graduates!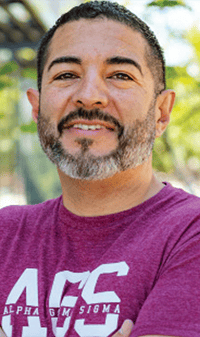 Rafael Valdovinos, Jr.
Rafael Valdovinos, Jr. celebrates many achievements as a 100th graduating class member. He is a first-generation college graduate and the first Hancock semi-finalist selected to receive the Jack Kent Cooke Foundation Scholarship.
Valdovinos' path to success was challenging. He vacillated between academic achievement, gang culture, addiction, and incarceration.
"Over the last decade, I have been restored through recovery, education, and relationships. Hancock was there to offer me the support I needed to succeed."
With the help of the Basic Needs office, Men's Support Group, Beyond Incarceration Greater Education (BIGE) Club, and Beyond Barriers/Rising Scholars, Valdovinos became a fulltime Hancock student. He is graduating with an associate degree in psychology and will pursue a bachelor's degree in social work, while concurrently finishing a degree in addiction studies and a certificate in co-occurring disorders.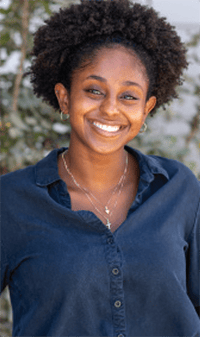 Ilu Tefera
As captain of the Hancock women's swimming team, Ilu Tefera's drive to compete and succeed is apparent both in and out of the water.
Tefera began swimming competitively at age 11, and her motivation to be the best continued after she graduated Pioneer Valley High School. She sought multiple degrees as a Hancock student-athlete.
"I'm a very self-driven person. I like to set goals, and I know the work I have to do to get there. Being an athlete and being part of a team kept me grounded and motivated."
She is graduating with four degrees, including an associate degree for transfer in political science, an associate degree for transfer in English, an associate degree in social and behavioral science, and an associate degree for transfer in social and behavioral science. She plans to transfer to a four-year university.
She is considering several career areas including law and journalism.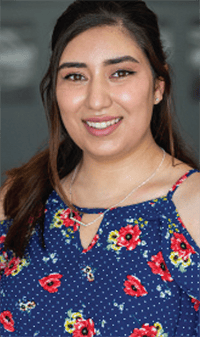 Vanessa Magaña Marin
First-generation college student and DREAMer Vanessa Magaña Marin explored a passion for graphic design while at Hancock.
"I've always loved making logos and videos and being creative. I came to Hancock because it gave me the opportunity to learn and pursue my goals."
Magaña Marin began taking noncredit classes at Hancock through Community Education, transitioned to credit classes, and then began pursuing her degree. She participated in the college's AIM program and served as vice president of the college's Associated Student Body Government. Magaña Marin also served as president of Hancock's DREAM Club.
"I feel so grateful for the support of my parents and all the faculty and staff at Hancock who helped me. I wouldn't be able to have this opportunity if it wasn't for them. I hope I can be an example to other students who are in the same position as I am."
Magaña Marin is graduating with associate degrees in arts and humanities and math.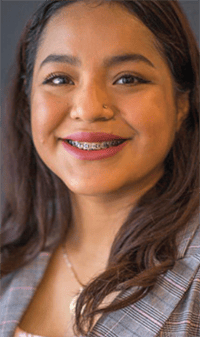 Ana Rosas Pacheco
Ana Rosas Pacheco is graduating from Hancock with a lengthy list of accomplishments in student service.
After witnessing the impacts of student leaders, Pacheco joined campus clubs and student government. In 2020, she was elected to represent the college's students as a nonvoting member of the AHC Board of Trustees.
"I wanted to make a difference and become a voice for other students. Being a part of the college in a way that goes beyond just academics is very important to me.
Pacheco is a first-generation college student. She credits her parents for the opportunity to pursue higher education.
My parents immigrated to the U.S. in the early 2000s. They came to this country so I could have better opportunities and a better future. I'm so grateful for the sacrifices they've made to help me achieve my dreams.
Pacheco is graduating with an associate degree for transfer in administration of justice and behavioral science. She plans to transfer to CSU Fresno to pursue a four year degree in criminal justice.