Meet the AHC Student Ambassadors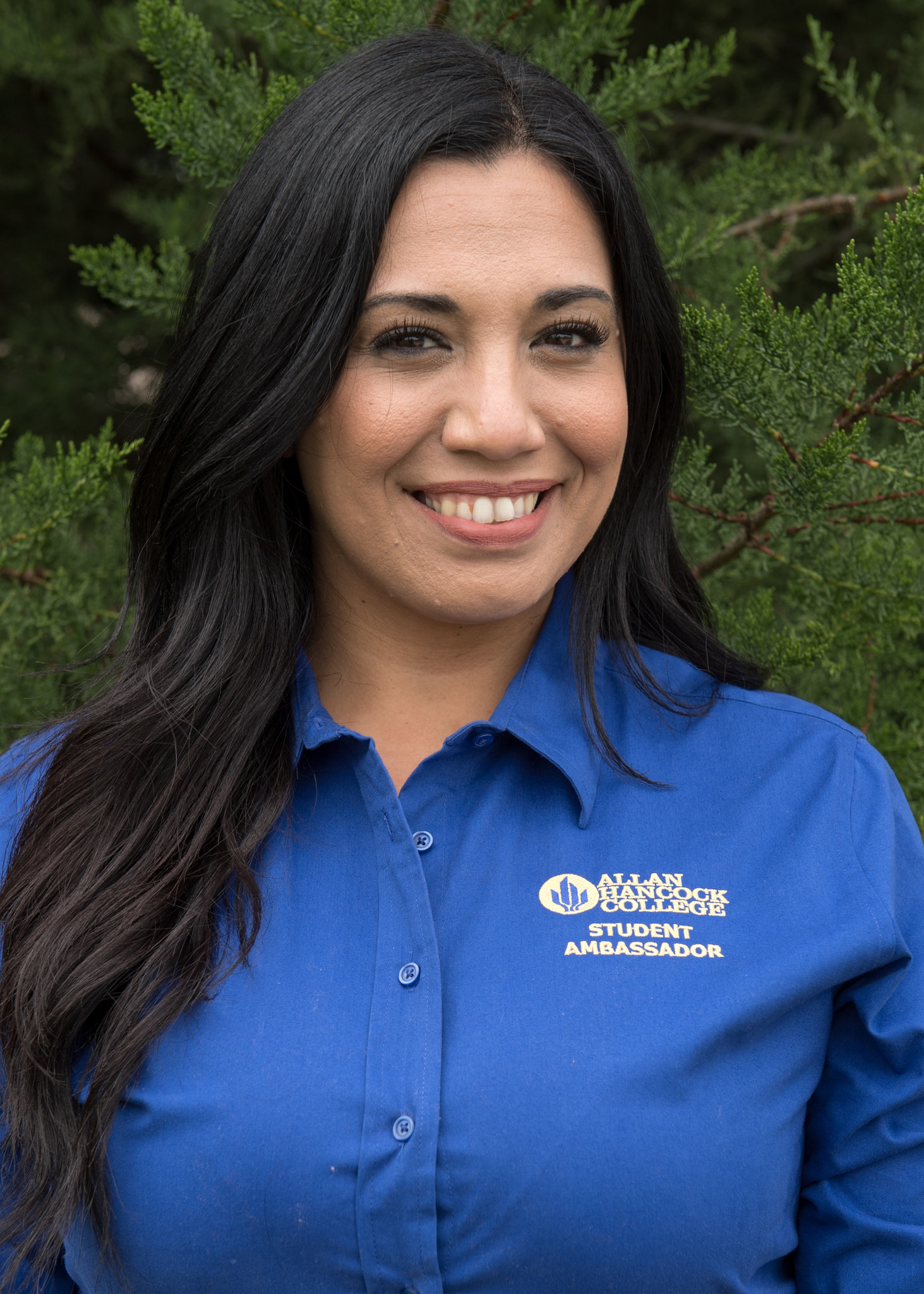 Melissa Rojas-Enriquez is a multi-talented student ambassador at Allan Hancock College, juggling raising her son as a single mother, as well as majoring in sociology and human services. Melissa plans to achieve her Associates degree at Hancock, and to further her education at University of California, Santa Barbara. She is focused on following her dreams of becoming an academic counselor, and to eventually join the staff here at AHC. Melissa is outgoing, enthused for new challenges, and truly motivated to inspire everyone, despite, age, gender, or background, to pursue a college education. She is a first generation college student, and understands the struggles and fears encountered when embarking on this academic journey.

Ana Rosas Pacheco is an Administration of Justice major and is planning on transferring to a 4-year university. She is involved in Allan Hancock College Student Government as our Executive Director and a member American Sign Language Club on campus. She is looking forward to the Leadership class and hopes to gain new learning opportunities on and off campus. Ana is a very outgoing person ready to make new friends, and ready to help others, while being a student and a member of the Allan Hancock College family. She participates in many events within the community and on our campus including our own weekly Food Share Because We Care.

Hector Barahona is a first-generation college student majoring in Mechanical Engineering. With the support of his family, friends and everyone at Allan Hancock College, he hopes to transfer to a university to earn his Bachelor's degree. He enjoys drawing, photography, videogames, and the art of Bonsai trees. As a Student Ambassador he aspires to help others make the transition into college easier and bolster the desire for higher learning in others. He hopes to be of service and to provide a positive experience.

Heidi Mendiola is majoring in sociology with plans of transferring to a four-year university to study criminal justice. Heidi beings her term as a Student Trustee after serving as the Executive Director for the colleges Associated Student Body Government. Through leadership class, Heidi has sat on the Academic Senate and Student Services Council as a student representative. She plans to utilize the skills that she has learned through previous leadership experiences to better serve the students. Heidi is caring, outgoing, and determined. In her free time, she enjoys hiking, going to the moves, and spending time with loved ones.

Ileana Hernandez is a Nursing major and plans on transferring to a 4-year university to continue her education and earn her Bachelor of Science in Nursing. She is caring, optimistic, and motivated. Ileana's goal as a Student Ambassador is to utilize her leadership skills and share knowledge with others. In her free time, she enjoys spending quality time with her friends and family, attending concerts, traveling and discover new foods along the way. Her future goal is to become a Registered Nurse in the Emergency Room.

Elizabeth Alvarez is currently a biology major who plans to receive her associates degree and transfer to a 4 year university. Her goal is to achieve her bachelors degree and pursue a career in veterinary medicine. She is a first-generation college student who understands the struggles and nervousness that can come with starting college.

Lennette Espinoza is a passionate aspiring psychiatrist, who currently holds the position as Vice President of Finance for the Associated Student Body Government. She is finishing up her third year at Allan Hancock College, she's looking forward to graduation, and hopes to transfer to UC Berkeley. She is also a club member in the Veg Club, Nutrition and Wellness, as well as Queers and Allies. As a Student Ambassador Lennette wants nothing more than to inspire others and create a warm environment for each and every student here at our Allan Hancock College

Marcela Viveros is a freshman at Allan Hancock College. Becoming an ambassador has opened her eyes to the world around her. She loves helping others and encourages them to be themselves. Being an ambassador is hard work but she loves the work she does for others. She says "It's not about us, it's about those who we are around, seeing people smile when we help them or even a slight "thank you "is what tells me that I love what I'm doing". She wants people to know that ambassadors are here to help with whatever they need, they can count on them to get the job done.

David Bautista is a first-generation student who is majoring in Business. He plans to transfer to a four-year University in two years where he plans to continue his education. David is currently part of many Programs offered at Allan Hancock including EOPS, CAN, Puente and the AHC Mentorship program. He Has volunteered at the Nipomo food bank for about five years as well as at other community events; he enjoys helping others whenever he can. David's passion for helping others is one of the reasons why he Decided to join the Ambassador team. He is excited about the new opportunities, and all the people he Will meet that will come along with being a Student Ambassador. One of his goals throughout his educational career is to break the negative stigma behind those who decide to attend community college. He hopes to inform others that the community college path can lead you to success, and is a good path to follow.

Ana Leon is in her first year at Allan Hancock College and is majoring in psychology. She is a promise student and knows the value of being involved on campus and wants to share the importance of being connected with other students. She is currently the Co-Director of Public Affairs for the Associated Student Body Government (ASBG) Board of Directors. Ana feels honored to be one of your student ambassadors and being involved in student government!