President's Circle
About the President's Circle
President Circle members are an important group of community members who believe in education and its transformative powers. Through this important unrestricted support, Allan Hancock College is able to assist thousands of students and fund unique opportunities and programs including the following: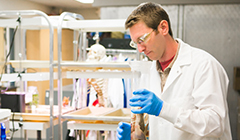 A New Lab Position in Biology
"There is great demand for our biology classes – many of which include specialized labs. With President's Circle funding, we were able to add a new lab position and reduce wait times by adding sections – including one on Saturdays." Linda Metaxas, department chair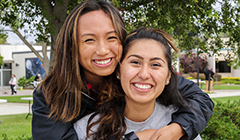 A Pilot Program for Foster Youth
"This program is an extra support system – providing services and knowledge to guide you in the right direction."
Kenya Guerrero-Torres, one of nearly 200 current/former foster youth enrolled at Hancock (not pictured)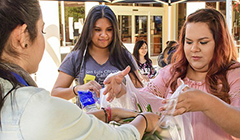 Food Share Because We Care
"I don't know what I would have done without this program. It took a lot of pressure off me worrying about having enough healthy food for the week for my daughter and me."
Joanna Davis, single-parent (not pictured)
Read more about programs supported by the President's Circle in the 2022/23 Impact Report.


For more information or to become a member, click the Join the President's Circle button or contact:

Allan Hancock College Foundation
800 S College Drive, Bldg. B, Ste. 106
Santa Maria, CA 93456-5170
805-925-2004 · ahcfoundation@hancockcollege.edu
---
The AHC Foundation is an IRS recognized non-profit organization founded in 1977.
Tax ID # 95-3143396
Once again, The Aspen Institute has chosen Allan Hancock College as one of the top 150 community colleges in the nation. The President's Circle fund augments the important teaching and learning that's occurring on campus by providing flexibility and immediate resources. All contributions are tax-deductible with monthly, quarterly and annual payment options available.