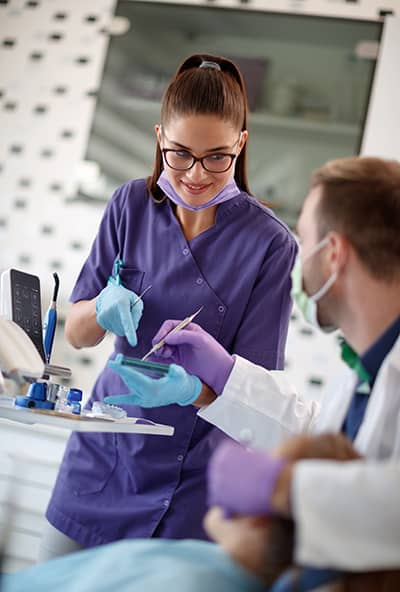 Start a career in dental assisting
Approved by the California Board of Dental Examiners, this two-semester (fall and spring) program provides technical skills needed for employment in a dental office. The student develops skills to participate as a member of the dental health team in general chairside and specialty procedures, office management, and x-ray techniques.
In person workshops will be held March 6, 2024.
Please sign interest list and check website for dates of workshops
Building M-100, Room M-115 @12:00pm

Questions will be answered about the Dental Assisting Program and how to apply. A tour of our state of the art dental clinic will be offered.

Application to the Dental Program
Applications posted in March
Questions about the application process can be emailed to healthsciences@hancockcollege.edu
Questions about the dental assisting program can be emailed to kjohnson@hancockcollege.edu
Explore Dental Assisting Degrees and Certificates
New Course Offerings:
Infection Control in Dentistry-8 hour certificate course. Save the date
Date: Friday October 13, 2023
Enrollment information is available on the continuing education page.
Contact
Health Sciences Department
Building M (RM-M132)
805-922-6966 ext. 3384
healthsciences@hancockcollege.edu
Hours
M-Th: 8 a.m. to 4:30 p.m.
F: 8 a.m. to 4 p.m.
For questions regarding certification contact:
Dental Board of California
2005 Evergreen St. Suite 150
Sacramento, CA 95815
916-263-2300
www.dbc.ca.gov
Allan Hancock College Dental Assisting program is approved by the Dental Board of California.