Welcome to Hancock's Santa Ynez Valley Center
The Allan Hancock College Santa Ynez Valley Center on the Santa Ynez Valley High School campus is located in building R on the east side of the high school off of north Refugio Road. The Santa Ynez Valley Center features classrooms, a computer lab, restroom facilities, and two offices.
The center provides the following support services:
Admissions and Records
Cashier Services
Counseling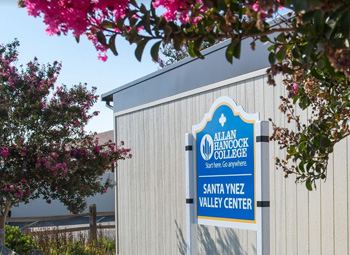 Location
Santa Ynez Valley Union High School
2975 East Hwy 246
Santa Ynez, CA 93460
1-805-922-6966 ext. 3355

Normal Business Hours
Monday - Thursday: 9:30 a.m. to 6 p.m.
Friday: 8 a.m. to 4 p.m.
Closed each day for lunch from 1-2 p.m.

Staff:
Tino Vega
fortino.vega@hancockcollege.edu
Virtual Tour of SYVC
Map of SYVC
Classes at the SYVC
The college offers noncredit classes as well as concurrent enrollment classes each semester at Santa Ynez Valley Union High School. Concurrent enrollment classes are free to high school students and allow students to earn both college and high school credit. The classes are taught by college-approved faculty at the high school during normal school hours.
For information on how to register for noncredit classes visit the Community Education Site.