Hancock Celebrates Class of 2020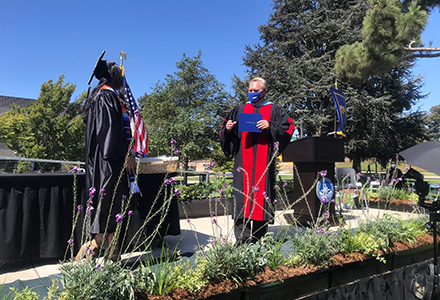 AUGUST 12, 2020 -- Allan Hancock College celebrated the achievements of its 99th graduating class with a special drive-through commencement ceremony on Aug. 12 at the college's Santa Maria campus.
A total of 320 students from Hancock's record-breaking 2020 graduating class participated in the safe and socially distanced ceremony, and were able to drive onto campus, walk across a stage to receive their diploma and take a photo. The ceremony was also streamed live on Hancock's website and social media for family members, friends and the public.
"We created this ceremony in a way that will live on forever for our students and their families," said Hancock Superintendent/President Kevin G. Walthers, Ph.D., who attended the ceremony and also addressed the graduates in a pre-recorded video address "Today, these students are at the end of a journey that is also the beginning of a new adventure. They are proof that if you start here, you can go anywhere."
In May, a record-breaking 1,888 students in Hancock's 99th class graduated, earning more than 2,507 degrees and 850 certificates. A total of 323 of those students graduated with honors, with another 12 students graduating with high honors. A total of 102 graduates received the Hancock Promise, a program that provides graduating high school students in the Allan Hancock Joint Community College District with their first year at Hancock tuition-free.
"Today is about celebrating your accomplishments and remembering this as a milestone in your journey, whether you're starting a new career or heading off to a university," said Hancock Associate Superintendent and Vice President of Student Services Nohemy Ornelas, Ed.D.
"It is truly incredible to note all you were able to achieve during this pandemic. Your ability to show you family and friends that you can achieve your academic goals is amazing."
The COVID-19 pandemic created unique challenges for Hancock's 2020 graduates, who had to quickly learn how to navigate the transition from face-to-face, on-campus classes to virtual learning in the spring semester. With the help of Hancock's dedicated faculty and employees, as well as a wide array of virtual support services and programs, a record number of the students were still able to successfully graduate despite the unprecedented circumstances.
"These students achieved success while enduring one of the most difficult semesters in history," said Hancock Board of Trustees President Larry Lahr in his video address to the graduates. "You have done one of the wisest things you can do by preparing yourself with an education from Allan Hancock College."
Hancock 2020 graduate and ASBG Class President Tyler Little participated in the drive-through ceremony and also commented on the challenges he and his peers faced this year.
"This year has been very unique. The Coronavirus changed nearly every aspect of our daily lives," said Little, who earned a degree in film and video production. "The class of 2020 is unlike any other that has existed before because we encountered a situation that no other class has ever encountered. You should be proud of what you've done because no one else has done it before."
Despite those historic challenges, Hancock's 2020 graduates are well-prepared for the future. In his speech, Walthers noted that college graduates are more likely to vote, more likely to see their lifetime earnings more than double and more likely be engaged in civic activity at higher rates. He added that they are also less likely to be unemployed, more likely to have more stable family lives, and have the opportunity to enjoy a higher standard of living.
"These graduates are part of cohort of individuals who are the future of our community," said Walthers.
Hancock will continue to offer most of its classes remotely for the fall 2020 semester. Fall classes begin Aug. 17. Financial aid and other important resources will remain available to ensure student success. For more information and to register for classes before Aug. 17, visit www.hancockcollege.edu/fall.
- AHC -
Photo Caption: Allan Hancock College celebrated the class of 2020 with a safe and socially distanced commencement ceremony on Aug. 12.