Ann Foxworthy, Ph.D.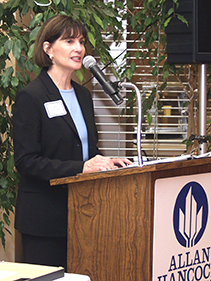 In 1992, Ann Foxworthy, Ph.D. became the first woman superintendent and president of Allan Hancock College and served in that position until she retired in 2004.
During her tenure, Foxworthy oversaw many historical improvements to the college. She was instrumental in introducing online instruction and registration to Allan Hancock College, she oversaw the expansion of the college to include the Lompoc Valley Center and the Santa Ynez Valley Center, and she helped restructure the AHC Foundation making it more active in fundraising and scholarship awards.
Dr. Foxworthy was passionate about visual and performing arts and creating a special place on campus to showcase art was a significant goal of hers.
SPOTLIGHT
Andrea Hale
Cosmetology Student

"I chose to attend Allan Hancock College so I could earn my associate in arts degree, obtain my license and become a cosmetologist. I recommend Hancock College because it offers many of the same opportunities as a university and I'm still able to live at home and save money. My classes are really fun and the instructors are easy to work with."
Submit a Testimonial »
We're Changing
the Odds!