Student Activities & ASBG
The Associated Student Body Government (ASBG) is a group of student leaders representing you – the Allan Hancock College student. We are responsible for student activities, communications, programs, student participation on college committees, and legislative matters pertaining to students. Everything that concerns you concerns ASBG. If you are interested in becoming involved in student government, stop by the ASBG offices in the Santa Maria Student Center or email Stephanie Robb, Coordinator, Student Activities at srobb@hancockcollege.edu.
Drug-Free Schools and Campus Regulations (2013-2015)
ASBG Meetings
All are welcome and encouraged to attend the ASBG meetings! This is a time that all members come together to discuss official business, listen to ideas, and make decisions. Meetings are held Mondays 12:30-1:50pm in the Santa Maria Student Center G106A. All meetings are chaired by the President of ASBG. If you would like to bring something to the attention of ASBG, please email srobb@hancockcollege.edu to be added to the agenda.
Contact ASBG:
Santa Maria Student Center G105
Phone: (805) 922-6966 ext. 3229
Get Involved with ASBG
To get involved with ASBG and student government, all you need to do is take a leadership class. Watch the video below for more information.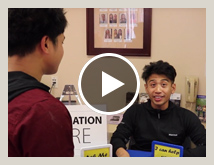 SPOTLIGHT
Brian Farris
Wildland Fire Tech Student

"Without a doubt the best part about Hancock College is the relationships you build with a group of like-minded individuals, and growing with that group. I enjoy the positive training environment that is created by the cadre and their efforts to help the cadets. They make the experience inside and outside the classroom fun. I would recommend Allan Hancock College to anyone interested in networking with a wealth of cadets and cadre who know what it takes to do the job. The knowledge you can open yourself up to will put you ahead of the game during your search for a career."
Celebrating diversity