Graduation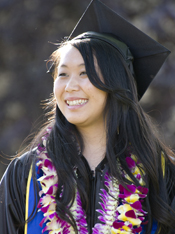 Are you ready to graduate?
If you are in your last course(s) that will complete your certificate and/or associate degree, you are required to apply for graduation. Check out the links below for steps to follow.
Application deadlines for a degree/certificate
Steps to apply for an associate degree
Steps to apply for a certificate

If students meet the requirements for graduation and/or certification, and submit an application for a degree or certificate by the posted deadline, diplomas and certificates will be mailed three months after grades are finalized for the semester in which the degree or certificate was requested.
SPOTLIGHT
Blanca Barriga
Accounting Student

"Hancock has been making a big difference in my life. I really recommend Allan Hancock College to anyone that has English as a second language. [The instructors] help me and try to explain every single thing. This is really interesting for me: Assets, liabilities. . . I'm learning a lot in the accounting program. I want to have better opportunities. That's why I wanted to come to Hancock."
Submit a Testimonial »
We're Changing
the Odds!