Graduation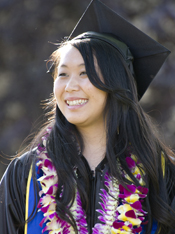 Are you ready to graduate?
If you are in your last course(s) that will complete your certificate and/or associate degree, you are required to apply for graduation. Check out the links below for steps to follow.
Application deadlines for a degree/certificate
Steps to apply for an associate degree
Steps to apply for a certificate
After students submit an application for a degree or certificate by the posted deadline, and the Office of Admissions and Records verifies completion, diplomas and certificates will be mailed three months after grades are finalized for the semester in which the degree or certificate was requested.
SPOTLIGHT
Aurora Ruvalcaba
Sociology

"I took an unorthodox path at Hancock. I went from failing out of school to returning a few years later to earn a 4.0 GPA and being accepted into UCLA. Sometimes I can't believe where I am today considering everything I have faced. I know I would have never made it this far without my family and the amazing faculty and staff at Hancock."
We're Changing
the Odds!