Graduation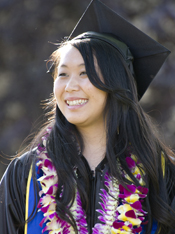 Are you ready to graduate?
If you are in your last course(s) that will complete your certificate and/or associate degree, you are required to apply for graduation. Check out the links below for steps to follow.
Application deadlines for a degree/certificate
Steps to apply for an associate degree
Steps to apply for a certificate
After students submit an application for a degree or certificate by the posted deadline, and the Office of Admissions and Records verifies completion, diplomas and certificates will be mailed three months after grades are finalized for the semester in which the degree or certificate was requested.
SPOTLIGHT
Eric Gardley
CAL Fire/San Luis Obispo County Fire

"Enrolling in the Fire Academy at Hancock was the best decision of my life. I am receiving an amazing education from instructors who have hundreds of years of experience combined. We are able to apply what we learn inside the classroom to real world applications by using the complex's state-of-the-art facilities. There is no doubt in my mind, I will be as prepared as possible to hit the ground running with a fire department after I graduate."
We're Changing
the Odds!