Calculator Rental Program
Calculator Rental Program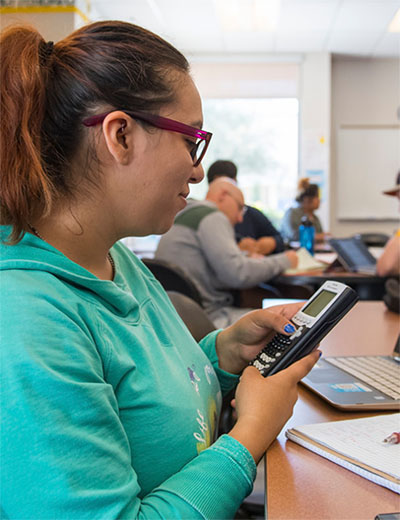 The Math Center provides an opportunity for 100-level math students to rent TI-83 graphing calculators throughout a semester for a small fee.
Rental Instructions and Payment Information
The fee for renting a calculator from the Math Center is $10.00. The Rental Agreement and associated fee are for one semester only. The procedure for calculator rental is:
Obtain a Calculator Rental Agreement form from the Math Center and fill it out.
Pay the $10 Rental Fee to a Cashier in Building A and obtain a receipt.
Bring the Agreement form and the Cashier's receipt to the Math Center to obtain a calculator.
If calculators are out of stock, a refund will be given. REFUNDS ONLY BY EXCEPTION.
Students who rent calculators for the semester accept the responsibility to return the calculator to the Math Center in undamaged and usable condition on or before the due date. If the calculator is returned damaged or unusable and if this condition is believed to be a result of carelessness or error, the student will be assessed a replacement fee. If the student fails to return the calculator by the due date or fails to replace a damaged or unusable calculator or pay the fee assessed, the Math Center may place a hold on the student's AHC student records, causing the student to be unable to register for further classes, obtain transcripts, etc. This hold will be removed when the calculator is returned in satisfactory condition, replaced, or the replacement fee has been paid in full.
Achieve Success at the Math Center
SPOTLIGHT
Ashley Pickard
Dental Assisting

"In ten month's time I've gained the knowledge and skills to provide myself with a new, fun and interesting career in the dental assisting field. I've had instructors who are in the field and it really helped me to become prepared and know what's expected of me when I start at an office. I'm excited about the dental program: it took me from being stuck at a career roadblock to having almost endless career opportunities."