Library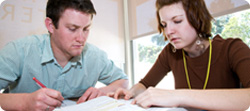 About...
Santa Maria:
8/18/14 – 12/10/14:
Monday-Thursday: 8:00am to 9:00pm
Saturday: 10:00am to 2:00pm
8/18/14 – 12/10/14:
Monday-Tuesday: 8:00am to 8:00pm
Wednesday-Thursday: 12:00pm to 8:00pm
Friday, Saturday, and Sunday: CLOSED

Click here to access this streaming video database.
Mission Statement
The library's mission is to support all Allan Hancock College students and staff with both immediate research needs and the development of information literacy skills, to enhance lifelong learning. In addition, the library is the campus "center of learning," with a welcoming atmosphere conducive to studying and learning.
The mission of the Friends of the Allan Hancock College Library is to enhance existing and planned library resources and programs, and to serve as partners in fostering appreciation for the library.
---

News & Announcements