New Exhibit Transports Visitors to a Mysterious Dreamworld at Hancock's Ann Foxworthy Gallery
New Exhibit Transports Visitors to a Mysterious Dreamworld at Hancock's Ann Foxworthy Gallery
"Some Assembly Required" runs Mar. 5-Apr. 18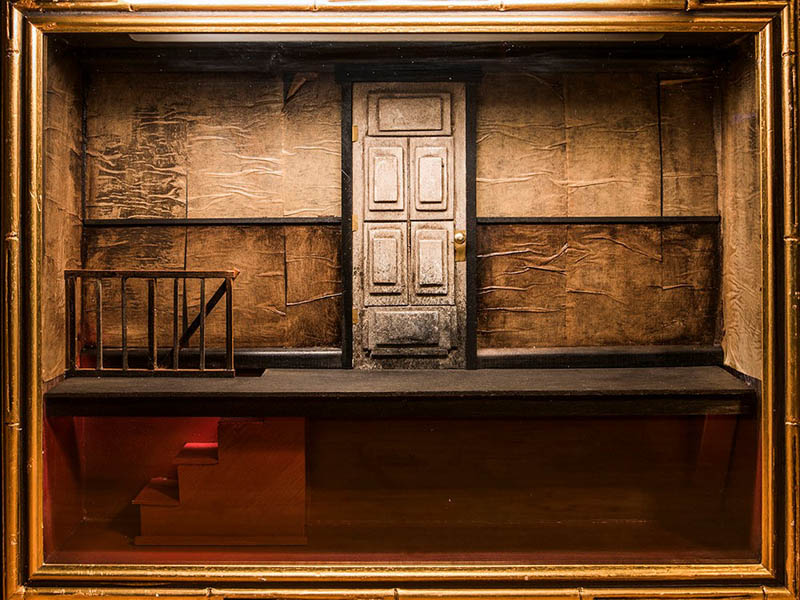 With vintage paper, hand-built wooden boxes, found and repurposed objects, Santa Barbara artist Michael Long gives a glimpse at some of the mysterious scenes, some of which exist only in his mind and some inspired by local landmarks in Santa Barbara. In a new exhibit, visitors to Allan Hancock College's Ann Foxworthy Gallery will be transported to the reoccurring dreams and miniature worlds of Michael Long.
The exhibit, titled "Some Assembly Required," will show from Mar. 5 to Apr. 18.
"The miniature worlds or dream boxes, that Michael has created, invoke a wonderful sense of intrigue and imagination," said Laura-Susan Thomas, director of the Ann Foxworthy Gallery. "Through his assemblage art, you find yourself taken away to places that are both beautiful and sometimes dark."
Long, who taught at Peabody Charter School and the Westside Boys and Girls Club in Santa Barbara, has been assembling salvaged and recycled materials as a focal point of his work for the past 30 years. He has worked as an art educator and cofounded the Rondo Studio, a co-op gallery and artist workplace in Santa Barbara.
"We're really excited to bring Michael's intriguing and engaging work into the gallery," said Thomas. "It's something unique that can be enjoyed by all ages, and it gives us the chance to show our support to a local Santa Barbara County artist."
The gallery, which is located in building L on the Santa Maria campus, will also hold an opening reception for Long's exhibit on Mar. 7, from 5-6 p.m. The event will include light refreshments and an opportunity to meet the artist.
In addition, Long will speak about his artistic process, thoughts and inspiration for his work, and answer questions during a Foxworthy Talk Series on March 28 from 6-7 p.m.
For more information on the artist, visit Long's website at www.michaelevanlong.com. For more information on this exhibit or the Ann Foxworthy Gallery, visit www.hancockcollege.edu/gallery, contact gallery director Laura-Susan Thomas at laura.thomas@hancockcollege.edu or 1-805-922-6966 ext. 3465.
- AHC -
"Upstairs at Eric's"
Caption: Santa Barbara artist Michael Long brings a unique and mysterious "assemblage show" to Allan Hancock College's Ann Foxworthy Gallery from Mar. 5 to Apr. 18.