Hancock Singers to Perform Concert "That's It" -- the Final Concert for Director Ann Lucas
Hancock Singers to Perform Concert "That's It" -- the Final Concert for Director Ann Lucas
The concert will be held on May 9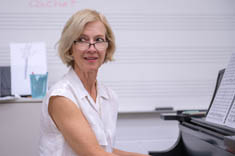 APRIL 9, 2019--In any performing group's career, favorite selections begin to accumulate, and people will inevitably start asking for repeated performances from previous years. The Allan Hancock College Singers' spring 2019 concert on Thursday, May 9, at 7 p.m., at the First United Methodist Church in Santa Maria, is going to do just that – satisfy the audience with the songs that make everyone exclaim, "that's it!"
"That's it" has an additional meaning as the performance title; director Ann Lucas, D.M.A., who has been directing the choir since 2006, will be retiring from Hancock just weeks after the concert.
"While I am aware that this is my final performance with the choir, in a way I am not thinking about it at all," said Lucas. "As the choir and I continue to rehearse and perfect our program, we are throwing ourselves full-tilt into the process. We care to the utmost that we do our best and we love to walk on stage and deliver. In this way, the concert is just like all the other ones we have given."
The choir has been busy rehearsing numbers in a variety of genres including folk, show tunes, Motown, classical and even a few gospel songs that have been particularly loved over time. The choir's pianist, Dave Alm, will guest conduct the gospel spiritual, "Goin' Up to Glory," while director Lucas takes over the keyboard as the choir "raises the roof" with this and other rousing gospel selections which will close the program.
"Everything on the program is a favorite of mine and the choir's from our most successful crowd-pleasing performances," said Lucas. "Enthusiasm is high, and our choir rehearsals are focused and energized every single day!"
The College Singers will also offer a short performance as a teaser to the spring concert, on Thursday, April 18 beginning at 1:30 p.m. on the Commons outside of the Rabobank Student Center on Hancock's Santa Maria campus. This preview event is free to all and open to the public. The choir will sing a few representative songs on the program and begin with a traditional Maori Haka welcome.
Many choir alumni were also asked to join the ensemble and have been practicing with the choir.
"Our motto has been 'we live to perform' and I think that anyone who attends the concert can see that we don't just talk the talk, we walk the walk too," said Lucas.
Tickets for the spring concert may be obtained at the door, in the fine arts office on the Santa Maria campus, or from any choir member. Admission is $10 for all tickets, and there is no reserved seating. Call 1-805-922-6966 ext. 3412 or ext. 3252 for more information.
- AHC -
Caption: Dr. Ann Lucas, director of the Allan Hancock College Singers, is preparing for her final crowd-pleasing choral concert, "That's it," on Thursday, May 9 at 7 p.m. at the First United Methodist Church in Santa Maria.