Bidding Underway for Friends of the AHC Library Gift Baskets
Bidding Underway for Friends of the AHC Library Gift Baskets
The silent auction runs through Apr.17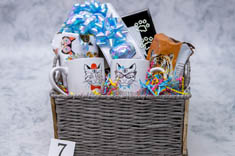 APRIL 15, 2019--The shelves normally displaying books in the Allan Hancock College Library are stacked with different items this week. More than 30 baskets containing everything from books and crochet supplies to tasty treats and wine tasting packages will be auctioned off as part of an annual fundraiser for the Friends of the Allan Hancock College Library.
"The Friends of the Library's annual gift basket silent auction is a fun annual fundraiser that invites creativity and engagement while also promoting an appreciation for the immense value of the library, both as a campus entity and active community partner," said faculty librarian Susannah Kopecky.
Each basket has a unique theme. The Purr-fect Basket for Cat Lovers basket has treats for both humans and felines alike. Learn how to crochet with a yarn-filled basket —complete with a tape measure and hooks. Local businesses such as Cubanissimo Cuban Coffee House and Café, Presqu'ile Winery and Cottonwood Canyon Winery also donated gift certificates and tasting vouchers for the fundraiser.
"We are so excited that this year the baskets have been donated by campus departments, individuals, as well as a variety of community partners and local businesses," said Kopecky.
The silent auction is underway and will conclude at 12 p.m. on Wednesday, Apr. 17. Interested bidders should come to the Allan Hancock College Library (bldg. L North) to sign up for a bidder number. Bids can be placed in-person or over the phone. Library staff will update the bids each day. Bidders can view the baskets and updated bids online at http://libguides.hancockcollege.edu/baskets.
The silent auction is the only fundraiser for Friends of the AHC Library. All proceeds go to benefit the library for programs and materials.
Friends of the Allan Hancock College Library was formed in spring 2000 as part of the Allan Hancock College Foundation. Its mission is to enhance existing and planned library resources and programs and to serve as partners in fostering appreciation for the library. Its primary goal is to raise funds for materials, projects and services that exceed the resources of the library budget.
For more information, contact Kopecky at susannah.kopecky@hancockcollege.edu or at 1-805-922-6966 ext. 3453.
- AHC -