Bulldog Bow-WOW Kicks Off Fall Semester at the Lompoc Valley Center
Bulldog Bow-WOW Kicks Off Fall Semester at the Lompoc Valley Center
The event will be held Wednesday, Sept. 12, from 10 a.m.-1 p.m. outside of bldg. 2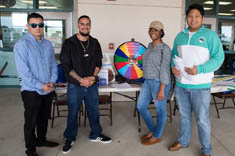 SEPTEMBER 7, 2018--New and returning students attending Allan Hancock College's Lompoc Valley Center will have fun while learning the latest about the college's student services, academic programs and student organizations during fall semester's kick-off event, Bulldog Bow-WOW. Sponsored by the college's Associated Student Body Government (ASBG), Bow-WOW will be held at the LVC Wednesday, Sept. 12, from 10 a.m. to 1 p.m. outside of building 2.
More than 1,000 students will learn about essential student services to help them succeed in college (i.e., counseling, tutoring, financial aid and more), meet faculty and staff, explore various academic and career prep programs, enjoy free music and food.
For more information about Bulldog Bow-WOW, call or email Christine Grelck at 1-805-735-3366 ext. 5215, cgrelck@hancockcollege.edu. The toll free number from Santa Barbara and San Luis Obispo counties is 1-866 DIAL AHC (342-5242), then dial the appropriate extension.
- AHC -
Caption: Students at Allan Hancock College will enjoy free music, food, and gain knowledge of student services and organizations at Bulldog Bow-WOW from 10 a.m.-1 p.m. on Wednesday, Sept. 12, outside of bldg. 2 at the Lompoc Valley Center.