Hancock Awards New Degree in Theatre Arts
Hancock Awards New Degree in Theatre Arts
The new program allows students to explore writing skills, directing, acting and more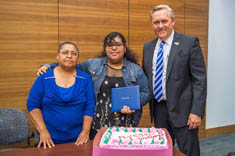 SEPTEMBER 4, 2018--Surrounded by her family, fine arts faculty and student members of the drama club, Allan Hancock College student Jessica Garcia was presented with the college's first ever degree in theatre arts at a special ceremony in the college's boardroom.
"When you receive this degree in your hands, it means your instructors know who you are and are rooting for you," President/Superintendent Kevin G. Walthers, Ph.D., said to Garcia as he presented her diploma. "You have their stamp of approval and the stamp of approval of the college."
The new degree is an associate in arts transfer degree (AA-T) in theatre arts which guarantees priority admission into the California State University (CSU) system at junior standing with the opportunity to complete a baccalaureate degree with 60 additional semester units. Garcia plans to continue her education and is currently investigating several of the 23 campuses in California's CSU system.
"Theatre arts is something I feel connected to and it has helped me find my voice in so many ways," said Garcia. "I'm generally a very shy person, and this major has helped me feel more comfortable in my skin than I ever thought I would."
A writer, director and general jack-of-all-trades in the theatre, Jessica has been on hand for most of Hancock's dance and performance productions over the last couple years.
"You name it, she has done it all behind the scenes," said Dianne Grieco McMahon, fine arts department chair and dance program coordinator. "She has great attention to detail – even if a costume ripped, she was right there on it! We're thrilled that she'll be helping with our next production of Dimensions in Dance at the end of this month."
While Hancock is home to Pacific Conservatory Theatre (PCPA), a world-class theatre training company, the program is highly competitive on a national level, so many local students who are interested aren't able to get into the conservatory. The college created the AA-T in theatre arts to offer an accessible program that would allow any student to explore a wide variety of theatre arts including writing, directing, acting and more.
"There are so many strong high school drama programs in the community, so it's great that we can offer a degree that challenges these students and helps them build their skills and explore their talents,' said Michael Dempsey, who teaches technical theatre at the college. "This degree has been over seven years in the making, so I couldn't be happier to see it begin awarded to Jessica as the first recipient, and there are many others in the pipeline as well."
"This program offered me a really warm community that allowed me the freedom to grow in any space I wanted to," said Garcia. "I was surrounded by so many caring people who wanted to help me succeed, I really feel that it can give people the self-worth and confidence to grow in any field."
Inspired by Luis Miguel Valdez, who is regarded as the father of Chicano theater in the United States and helped move theatre and arts into the Chicano communities, Garcia feels a responsibility to the local Latino community to help make theatre accessible to them. She has already helped Hancock adapt some of their productions to include Mexican and Hispanic cultural themes.
"I've found that there is often a huge disconnect in the theatre to people with lower salaries, but there's so much that can be gained from that exposure," said Garcia. "The theatre has brought me so much joy and I think that should be shared with as many people as possible!"
For more information on Allan Hancock College degrees for transfer, visit www.hancockcollege.edu/transferdegrees or call the University Transfer Center 1-805-922-6966 ext. 3363.
- AHC -
Caption: As the first recipient of Hancock's new theatre arts degree, Jessica Garcia (center) celebrates with her mother, Anna Hernandez, and Hancock President/Superintendent Kevin G. Walthers, Ph.D.