Hancock to Welcome More Than 3,000 Future Employees for Career Exploration Day
Hancock to Welcome More Than 3,000 Future Employees for Career Exploration Day
The 14th annual event will be held on Oct. 5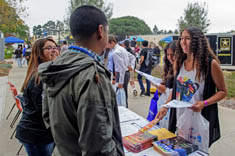 SEPTEMBER 28, 2018--Allan Hancock College will host more than 3,000 local junior high and high school students, and more than 100 local businesses at its 14th annual Career Exploration Day on Friday, October 5, 2018, from 9 a.m. to 12 p.m. at the Santa Maria campus.
The outdoor event will take place in the heart of the Santa Maria campus known as the Commons, and will include exhibitors from a variety of industries and career programs on the Central Coast. Members of the community are also invited to attend.
"The goal of the event is to expose high school, junior high school and college students to career opportunities on the Central Coast and to make sure they know how to prepare for the careers of their choice," said Nohemy Ornelas, associate superintendent/vice president of Student Services. "It also helps those still exploring career options to talk directly with employers."
For the second year in a row, the college will be inviting junior high school students as part of the Bulldog Bound program, a component of The Hancock Promise designed to get students to start thinking of career paths and higher education at a younger age. This year the junior high students will have a special program at the event that includes food, motivational speakers, and entertainment from the college's Dimensions in Dance performers.
The college has also received confirmation that close to 2,000 local high school students will be in attendance. They will be given the opportunity to sign up for one of 48 tours that will take them to specific areas on campus including industrial technology, auto body, culinary arts, fine arts, early childhood studies, health sciences and agricultural business in the college's vineyards.
"With The Hancock Promise now in place, district high school students who enroll at Hancock directly after graduating receive their first year of tuition free," said Ornelas. "Career Exploration Day is a great opportunity for high school students to get a more intimate look at the programs they might be interested in before they enroll as Promise students."
The event also provides the opportunity for employers to connect with future employees and inform them about the specific training and educational needs of their business or industry.
For employers and area businesses, exhibit space is free. For a $250 contribution, businesses can advertise in the printed program and display their banners at the event.
To register, businesses can complete and submit the form located at www.hancockcollege.edu/careerexploration. For more information, contact Lynn Mayer at 1-805-922-6966 ext. 3374 or lmayer@hancockcollege.edu.
-AHC-
Caption: More than 3,000 junior high, high school and college students are expected to attend Allan Hancock College's 14th annual Career Exploration Day on Friday, October 5. The event takes place on the college's Santa Maria campus and allows businesses to meet future employers and inform them about the specific training and education needs of their industries.