Hancock Students Join Forces With Trilogy Residents to Help Beautify Oso Flaco on Coastal Cleanup Day
Hancock Students Join Forces With Trilogy Residents to Help Beautify Oso Flaco on Coastal Cleanup Day
The volunteers cleaned up the boardwalk, beach, parking lot, hiking trails and snowy plover protected areas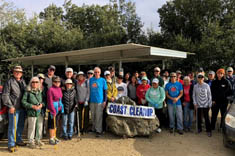 SEPTEMBER 19, 2018--Allan Hancock College recreation management students joined Trilogy Monarch Dunes residents on Saturday, September 15 to help clean up Oso Flaco's boardwalk, beach, parking lot area, hiking trails and snowy plover protected areas.
"I really like the beach and I wanted to be able to give back to it in way," said Sohyoung Shin, one of the eight Hancock students who volunteered at the site.
Another Hancock student, Emily Martella, who also serves as president of the Bulldog Rec-ing Club, added, "It was a great opportunity and really fun way for our club to get together and hang out while also cleaning up the beach."
Oso Flaco was just one of 36 coastal sites in San Luis Obispo County that volunteers helped clean up as part of the Environmental Center of San Luis Obispo's (ECOSLO) annual participation in Coastal Cleanup Day.
The 32 volunteers removed a total of 64 pounds of trash and 47 pounds of recyclables in a three mile area at Oso Flaco. Statewide, more than 53,000 volunteers picked up over 367 tons of trash from over 1,000 sites.
"I loved the interaction and enthusiasm from the Hancock students," said Jeanette Eash, a Trilogy volunteer. "This is such a great event and a great way for us to give back to the community."
For more information on the recreation management program at Allan Hancock College, contact Paul LeSage at plesage@hancockcollege.edu or by calling 1-805-922-6966 ext. 3227. To learn more about Coastal Cleanup Day or ECOSLO visit www.ecoslo.org.
- AHC -
Caption: Residents of Trilogy Monarch Dunes joined forces with Allan Hancock College Recreation Management students to clean up Oso Flaco on Coastal Cleanup Day.