Several New Guest Choreographers Slated for Allan Hancock College's Dimensions in Dance
Several New Guest Choreographers Slated for Allan Hancock College's Dimensions in Dance
More than 60 students and faculty to perform in 14 original works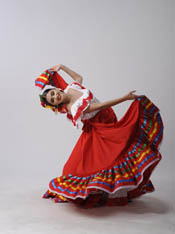 SEPTEMBER 18, 2018-- Dimensions in Dance, the annual fall show presented by the Allan Hancock College dance program, runs September 27-30 and October 4-6 in the Marian Theatre on the Santa Maria campus. Dance program coordinator Dianne Grieco McMahon directs the cast of more than 60 students and faculty performing 14 original works ranging from ballet to modern, jazz, contemporary, hip- hop, folklórico and tap. Guest choreographers this fall include Malaya Ho, Ricky Palomino, Bob Woodard, Roy Don Reyes and Zheila Pouraghabagher.
Malaya Ho began her early training with modern dance in the Graham and Horton techniques. Ho trained in jazz at the EDGE Performing Arts Center in Los Angeles, and has been a staff member there for more than 20 years. When not teaching at the EDGE, Malaya is traveling nationally and internationally to Sweden, Germany, Mexico, New Zealand, Canada, and other locations.
Ricky Palomino began his intensive dance training in the Vaganova style at Ballet Arizona and continued with jazz and modern technique. Palomino continued his studies in New York, where he became an Alvin Ailey and Broadway Dance Center scholarship recipient. He was also an original member of the Cedar Lake Dance Company in New York City. Since then, Palomino has been a dancer on "So You Think You Can Dance," "Dancing with the Stars,"and various other television shows. He has worked for American Musical Dramatic Academy in Hollywood and continues to connect dance, music and fashion into his new work. His piece for this show will be Paper Planes.
Roy Don (Tito) Reyes is a native of the Central Coast. He started his early dance training as a break dancer and continued with the Allan Hancock College Youth Dance Company. At 14, he received a scholarship with the San Francisco Ballet School, Joffrey Ballet, and PBT dance company. At 18, he relocated to New York to perform on Broadway, dancing in The King and I. After years of performing in New York, he made his way back to Los Angeles, where he was a scholarship student at the EDGE. From there he travelled to China, Taiwan and Canada. Since 2002, Reyes has been choreographing his own works. He currently resides in northern California, where he owns and teaches at his own private studio and choreographs for his own group, Fusion Dance Project.
Bob Woodard is the owner/artistic director of Artistry in Motion in Paso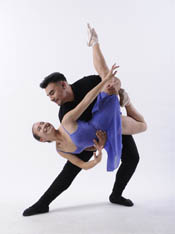 Robles. Woodward started his dancing career with the Oakland Ballet, which contributed to his technical background. He moved to San Luis Obispo to attend Cal Poly, and continued his dance training at Pat Jackson's American Dance studio. From there, he traveled to Los Angeles and New York City to dance and choreograph for 26 years. He has performed in a variety of television and stage shows, working with such greats as Ellen DeGeneres, Celine Dion, Janet Jackson, Andy Williams, Barry Manilow and Gloria Estefan to name a few. Woodward is an award winning choreographer and is known throughout the country for his artistic and technical numbers in ballet, heels, lyrical, jazz, tap and contemporary dance.
Zheila Pouraghabagher has taught at numerous studios and colleges across the country including American Dance, Steps on Broadway, Cal Poly and at Hancock. Pouraghabagher was a member and director of Pat Jackson's American Dance Company, performed in Debbie Reynolds showcases and at the 1996 Summer Olympics in Atlanta, and worked with the Kalinka Ballet in Russia. Pouraghabagher studied in Los Angeles and was a scholarship student at Broadway Dance Center in New York City. In 2009, Zheila moved back to the Central Coast and co-founded CORE Dance in San Luis Obispo. She recently received a "Best Direction Award" at Hollywood Vibe Dance Convention and Competition. She has a master's degree in education from Cal Poly and is a director at Morris & Garritano Insurance.
Other choreographers include Suzy Miller, Jaclyn Kriewall, Hancock faculty member Jesus Solorio, and former students Luis Lopez and Alexander Caballero. Student choreographers include Elvis Barrera, Bridget Huffer, Megan Rodgers and Emmanuel Zaragoza.
Show times are 7 p.m. Thursday through Saturday evenings with a 2 p.m. matinee Sunday. Children ages five and older are welcome to attend. Tickets ($16-$18) are available at the Allan Hancock College Performing Arts Center Box Office in Santa Maria or by calling 1-805-922-8313. Box office hours are Wednesday through Saturday, 12:30-7 p.m. and Sunday from 12:30-5 p.m. For more information call 1-805-922-6966 ext. 3845.
- AHC -
Caption: (photos courtesy of Luis Escobar) The Allan Hancock College dance program will present Dimensions in Dance, Sept. 27-30, and Oct. 4-6, in the Marian Theatre on the Santa Maria campus. More than 60 students and faculty performing 14 original works ranging from ballet to modern, jazz, contemporary, hip- hop, folklórico and tap.