University Bound? Get the Answers October 30, During Transfer Day and College Night at Allan Hancock College
University Bound? Get the Answers October 30, During Transfer Day and College Night at Allan Hancock College
More than 40 four-year universities will be on the Santa Maria campus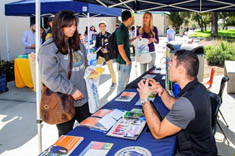 OCTOBER 25, 2018--Students, parents and community members who want to learn more about attending a four-year university, either in California or elsewhere in the nation, will have a great opportunity coming up later this month at Allan Hancock College. Representatives from more than 40 four-year universities will be on the Santa Maria campus on Tuesday, Oct. 30, for two special events – University Transfer Day and College Night. Both events are free and open to the public.
Hancock students and community members are invited to University Transfer Day, which will take place from 10:30 a.m. to 1:30 p.m. in The Commons in the center of the Santa Maria campus. College Night, which is similar to Transfer Day but geared toward high school students but also open to transfer students and their parents, will be in the school's gymnasium from 5-7 p.m. Dinner will be provided on a first-come, first-serve basis starting at 4:30 p.m.
Students will have the opportunity to meet and speak with representatives from universities like UCLA (College Night only), UC Santa Barbara; UC Berkeley; UC Davis, Cal Poly, San Luis Obispo; Fresno State University; San Jose State University; Arizona State University; University of San Francisco; Brandman College and dozens more.
"It's difficult to visit every university. This is a perfect opportunity for students to learn about multiple universities in one day," said Ashley Brackett, transfer counselor at Hancock. "The free event allows students and their parents to ask any question they have whether it's about programs, majors, admission, financial aid or housing."
University representatives will also be on hand at College Night. The evening event will feature workshops to further educate students, their parents and community members. You Can Afford College workshops will take place in English from 5-6 p.m., and from 6-7 p.m. in Spanish. Students will learn about the reality of college costs and how they can make it work with financial aid. Both financial aid workshops will take place in K-20, close to the gymnasium.
The process and requirements of transferring from a community college to a four-year university will be the focus in the Transfer Basics workshop, which will run from 5:30-6 p.m. in Spanish and 6-6:30 p.m. in English in Room K-20.
"We encourage students and parents to take advantage of the workshops at College Night. They will realize that going to college is possible, especially with The Hancock Promise, and they will learn how to make it become a reality," added Brackett.
The Hancock Promise, a program that provides high school graduates with their first year's tuition free at Hancock, is being offered to students who graduate from a high school within the Allan Hancock Community College District and immediately enroll in Hancock.
For more information about the events, call the University Transfer Center at 1-805-922-6966 ext. 3363 or email ahcutc@hancockcollege.edu.
- AHC -
Caption: More than 40 colleges and universities will be on hand to speak with students and the general public during Allan Hancock College's Transfer Day and College Night events on Tuesday, Oct. 30.