Allan Hancock College Professor/Artist Brings Women, Dreams & Conversations to the Ann Foxworthy Gallery
Allan Hancock College Professor/Artist Brings Women, Dreams & Conversations to the Ann Foxworthy Gallery
The exhibit will be on display Oct. 25-Dec. 10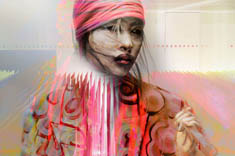 OCTOBER 23, 2018--The creative efforts of Allan Hancock College Multimedia Arts and Communications Professor Nancy Jo Ward will be featured in the college's Ann Foxworthy Gallery with an exhibit titled, Women, Dreams & Conversation: A Collection of MFA Artwork & Sabbatical Explorations. The exhibit will be displayed Oct. 25-Dec. 10.
"My art portrays women who represent ideas, personal narratives and memories," said Ward. "These women do not really exist, and they are not traditional portraits in that sense, but maybe an emotion will be elicited that makes people think about someone they have known or a feeling they have had."
Ward will also participate in Foxworthy Art Talk on Nov. 8 from 6-7 p.m. The Art Talk is a series the gallery is offering, open to the public, where artists can talk about their processes and inspiration, and visitors have a chance to ask questions and engage with the artists.
"I hope that I can convey that the use of technology in art and design is exciting," said Ward. "I am forever a student and am excited to learn new things and new processes. I hope I can motivate people to continue learning and find the path to the best solutions both in and out of the classroom."
A recent graduate from the University of the Arts London, Ward received a Master in Fine Arts (MFA) with a Distinction in Fine Art Digital degree from Camberwell College of Art. Her art practice explores pushing the edges of digital photography, the art-of-remix and painting. Calling herself a "hybrid artist," Ward combines her own figurative digital photos or pastel drawings that have been developed traditionally, and digitizes them into archival prints. She then draws, paints and hand finishes the surface with pastels, sometimes applying gold foil or reflective substances to the image.
"The principles of art and design are relevant regardless of what tool or media that you choose to work with," said Ward. "Before I completed the MFA, I felt that I had to hide the digital tools because I would hear comments that using computers wasn't "fine" art or "real" art. Now, I don't really hear that as much, and actually, don't care. I celebrate the technology by allowing digital artifacts to show, using algorithms, embedding glitch art and images of data visualization to add texture and variety to go beyond that can happen with traditional media."
An artist reception will be also held Nov. 1 from 4-6 p.m. at the gallery, which is located in building L on the Santa Maria campus.
For more information on this exhibit or the Ann Foxworthy Art Gallery, contact Ann Foxworthy Gallery Director Laura-Susan Thomas at laura.thomas@hancockcollege.edu or call 1-805-922-6966 ext. 3465.
- AHC -
Caption: Allan Hancock College Professor Nancy Jo Ward will exhibit Women, Dreams & Conversation: A Collection of MFA Artwork & Sabbatical Explorations from Oct. 25-Dec. 10 at Hancock's Ann Foxworthy Gallery. Pictured art: Virginia