Apply Online Today for Allan Hancock College Foundation Scholarships
Apply Online Today for Allan Hancock College Foundation Scholarships
Scholarships range from $500 to $10,000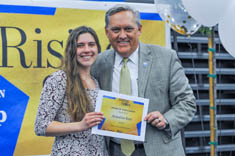 NOVEMBER 9, 2018--Allan Hancock College students can now apply online for more than half a million dollars in scholarships provided through the Allan Hancock College Foundation. The application period opened this week.
"We encourage all Allan Hancock College students to go online and apply early!" said Natalie Rucobo, advancement officer. "There is no application fee. It costs students nothing, and the rewards could be significant."
Last year, the foundation awarded 420 scholarships worth more than $500,000 to 370 students. Scholarships ranged from $500 to $10,000.
To be eligible for most scholarships, students must complete six or more units at Hancock in both the fall 2018 and spring 2019 semesters, and have a cumulative 3.00 or higher grade point average.
Students can complete the entire application process and view all scholarship opportunities online. The scholarship application is available at www.hancockcollege.edu/scholarships.
"We are so grateful to our community donors who have built the scholarship program with their amazing generosity," said Rucobo. "The foundation is able to reward hundreds of students for their hard work thanks to the tremendous community support."
The application period is open through February 20, 2019.
Questions about the online application should be directed to scholarships@hancockcollege.edu or call the Hancock Financial Aid office at 1-805-922-6966 ext. 3200 or toll free at 1-866-DIAL-AHC (342-5242), ext. 3200.
- AHC -
Caption: The online application period is under way for hundreds of thousands of dollars in scholarship awarded by the Allan Hancock College Foundation. Last year, the foundation awarded more than $500,000 to 370 students, including Annalise Ketz (left), who received the Marian Hancock Scholarship from Superintendent/President Kevin G. Walthers, Ph.D.