Hancock Dance Instructor Uses Salsa Dancing to Promote Covered California Insurance
Hancock Dance Instructor Uses Salsa Dancing to Promote Covered California Insurance
The performance will be held on Nov. 10 at 1 p.m.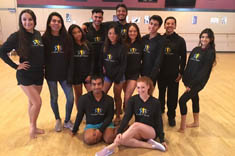 NOVEMBER 5, 2018--Allan Hancock College Dance Instructor Jesus Solorio hopes to encourage more Californians to enroll in Affordable Care Act (ACA) healthcare coverage through a salsa dance performance of a "quinceañera gone wrong."
Solorio was selected by Covered California to choreograph the performance for the Central Coast stop of Covered California's Statewide Tour (CCST). The performance will take place Nov. 10 at 1 p.m. in Room D-118 on the Santa Maria campus.
The bus tour was created to help spread the word among California residents, especially the Latino population, about open enrollment in brand-name health insurance plans under the ACA. Open enrollment for Covered California began Nov. 1, 2018 and runs through Jan. 15, 2019.
For his part of the tour, Solorio handpicked dancers from the college to act out the comical performance.
"It involves salsa dancing and an unfortunate self-related incident at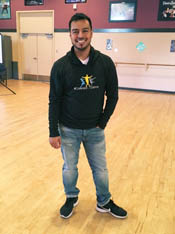 a quinceañera requiring medical attention," Solorio said of the performance. "It's something that connects with the Latino population. It's lighthearted and fun and shows the importance of being insured."
Every year CCST carries a theme through their tours and this year the theme is 'dance.' Solorio was approached along with other dance programs throughout the state to put forth a proposal and his was chosen among many school and private dance programs in the Central Coast. Footage from the performance will be used in additional promotion of Covered California including television commercials.
"The dancers didn't know it, but I've been holding secret auditions for many weeks," said Solorio. "I needed both solid dancers and great actors!"
Solorio, who has performed and choreographed for numerous stage and television shows, including So You Think You Can Dance, Glee and Hannah Montana, was given the opportunity to choose his own dance company. He decided to choose his students to perform in the number because he was excited about the experience it would give them.
"Performing in front of a professional film crew and cameras with a live audience will be a new and invaluable experience that I want these dancers to have." he said. "The audience is going to love it as well!"
The public is invited to attend the performance on Saturday free of charge.
For more information on Allan Hancock College's dance program visit www.hancockcollege.edu/dance. For more information on getting insurance through Covered California visit www.coveredca.com/apply.

- AHC -
Caption 1) A group of Allan Hancock College Dancers, led by Hancock instructor Jesus Solorio, will be performing for the Covered California Statewide Tour.
Caption 2) Jesus Solorio, assistant professor of dance at Allan Hancock College wears his Covered California sweatshirt. Solorio was chosen to choreograph a performance for the Covered California Statewide Tour.