Watch Historic Mars Landing Live at Allan Hancock College
Watch Historic Mars Landing Live at Allan Hancock College
The event is free and open to the public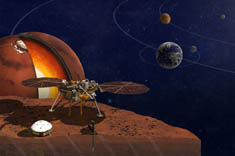 NOVEMBER 19, 2018--Allan Hancock College is inviting the community to watch live on the big screen as InSight, a robotic Mars lander from NASA's Discovery Program, makes its historical arrival to the Red Planet on Monday, Nov. 26 from 11 a.m. to 1 p.m. The free live viewing will be at the Marian Theatre on the Santa Maria campus and is open to the public.
In addition to the live video feed provided by NASA, Hancock will have experts on hand to give discussion and commentary including Brian H. Day from NASA Solar System Exploration Research Institute and Hancock astronomy professor Vince Tobin.
"This is a once-in-a-lifetime opportunity for people to see and learn about a real flying saucer's mission to Mars," said Richard Mahon, academic dean at Hancock. "Decades of work have come down to this one feat and the college is excited to share this moment with the community."
According to NASA, InSight will be the first mission to peer deep beneath the Martian surface, studying the planet's interior by measuring its heat output and listening for marsquakes, which are seismic events similar to earthquakes on Earth.
"It will use the seismic waves generated by marsquakes to develop a map of the planet's deep interior," NASA's announcement said. "The resulting insight into Mars' formation will help us better understand how other rocky planets, including Earth, were and are created."
Short for Interior Exploration using Seismic Investigations, Geodesy, and Heat Transport, InSight launched May 5 from Vandenberg Air Force Base and is the first mission to another planet to leave Earth from California.
Only 40 percent of the missions ever sent to Mars – by any space agency – have been successful. The U.S. is the only nation whose missions have survived a Mars landing. Since 1965, NASA has flown by, orbited, landed on and roved across the surface of Mars.
The lander has been programmed to take and send back its first images several minutes after touchdown. For more information including a minute-by-minute schedule visit www.hancockcollege.edu/mars.
- AHC -
Caption:Allan Hanock College will host a live feed from the Marian Theatre as NASA's next mission to Mars - InSight - is expected to land on the Red Planet on Nov. 26, 2018.