Allan Hancock College Renames Health, Science & Mathematics Building in Honor of Marian Regional Medical Center
Allan Hancock College Renames Health, Science & Mathematics Building in Honor of Marian Regional Medical Center
More than 150 guests were in attendance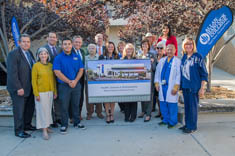 NOVEMBER 14, 2018--Allan Hancock College's long-time partnership with Marian Regional Medical Center was celebrated today with the re-dedication of the college's bldg. M as the Health, Science & Mathematics building, in recognition of Marian Regional Medical Center's nearly three decades of financial support to the college's nursing program.
"For nearly 30 years, Marian has provided in excess of $3.5 million to help support and expand our nursing programs," said Hancock Superintendent/President Kevin G. Walthers, Ph.D. "We think that's cause to celebrate and to acknowledge their participation in a very public and long-lasting way." In 1990, Marian funds assisted the college with the development of an RN program to connect with its existing LVN program. The college was then able to fast track RN training and graduate more nurses, meeting industry demand. "The ongoing success of our nursing programs is in large part due to the partnership with Marian," Walthers said.
During the ceremony, Marian Regional Medical Center's President & CEO Sue Andersen announced to the crowd of 150 that as part of its commitment to the RN program, they would be increasing their financial support. "It has been our pleasure to be part of this very successful partnership for the past 28 years and counting," said Andersen. "We are thrilled to be able to take this next step, not only for current and future students, but for the community-at-large which benefits from the excellent nurses who graduate from this program."
Among those in attendance were Marian Regional Medical Center and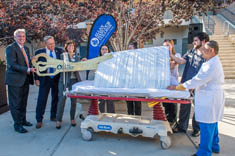 Hancock representatives, along with Hancock nursing faculty, former faculty, staff, students, and alumni.
The reveal of the new building signage came by way of a large architectural rendering of the lettering, wrapped in gauze and wheeled in on a hospital gurney. Nursing faculty and others cut away the "bandage" to reveal the new look of the building.
Nursing director Bonny Friedrich also spoke to the group and added that the partnership between Marian and Hancock is more than the financial commitment to the program; "it is the ongoing collaborative relationship that we have with staff, managers and administration on all levels," she said. "There has been a strong sense of faculty cohesiveness in preparing our students to address the needs of the community and the profession. I believe that is very important to give our students the best training possible, and Marian continues to help us reach that goal."
More information about the college's two-year LVN-RN ladder program can be found on its nursing program website.
- AHC -
Caption 1: Representatives of Allan Hancock College administration, staff, and students, as well as Marian Regional Medical Center staff and supporters, pose with the architectural rendering of the new signage for the college's bldg. M, which was renamed the Health, Science & Mathematics Building in honor of Marian Regional Medical Center during a dedication ceremony on the Santa Maria campus on November 14, 2018.


Caption 2: During a dedication ceremony on Nov. 14 for Allan Hancock College's bldg. M, an architectural rendering of new signage for the college's bldg. M was wheeled out on a gurney, wrapped in gauze. Representatives from both the college and Marian Regional Medical Center cut away the bandages to reveal the building's new name: the Health, Science & Mathematics Building in honor of Marian Regional Medical Center.