Hancock Names Bob Curry New Vice President of Academic Affairs
Hancock Names Bob Curry New Vice President of Academic Affairs
Curry begins his new position on July 1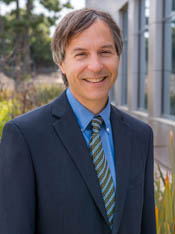 MAY 9, 2018--Academic Dean Bob Curry, Ph.D. has been named Allan Hancock College's new associate superintendent/vice president, Academic Affairs. The Allan Hancock College Board of Trustees unanimously approved Curry for the position during the board meeting Tuesday evening. Curry said he was excited for this opportunity.
"This college has long played a critical role in the county and in the lives of our students, and I'm eager to contribute to that legacy," said Curry. "This is an interesting time for the college. New legislation, initiatives and funding mechanisms for California community colleges are prompting shifts in some of the ways we do things, so we have an opportunity for positive change. I look forward to working alongside faculty and staff to take advantage of that opportunity to continue to increase the success of our students."
Curry started working at Hancock last July as an academic dean, overseeing the English department and the Academic Resource Center, as well as the library and distance learning resources.
"This is a wonderful campus—very welcoming and passionate about student success. The first day I set foot on campus, both in interviews and other interactions, I sensed a strong commitment to the college mission in everyone I met," said Curry. "My time here has only intensified that initial observation: regardless of job or title, the people who work at Hancock care deeply about ensuring student success. I'm honored to be part of that."
Curry will serve as a cabinet member and advisor to Hancock Superintendent/President Kevin G. Walthers, Ph.D. He will oversee strategic planning, policy development and curriculum development for the college's instructional programs, including credit, noncredit, community education and non-traditional instruction.
"Bob is a forward thinker with a wealth of knowledge and experience who will help the college continue to change the odds for our community and ensure student success," said Walthers.
Curry says he is looking forward to working closely with faculty, staff and students in his new position.
"I want to make sure all voices are heard as we move forward on new initiatives and in response to new mandates. We have a tremendous amount of expertise, experience and energy on campus in our faculty and staff, and my goal is to tap into those resources to help the college chart the best course forward. We have plenty to keep us busy, including The Hancock Promise, AB 705, and the Guided Pathways initiative, but we've got an excellent team."
While at Hancock, Curry helped organize and launch a new campus-wide mentorship program for faculty and staff. Nearly 100 employees signed up this spring for the program, called LEAP, which stands for Learn, Empower, Advise and Partner. Curry also helped the college purchase more than 200 required textbooks to alleviate the financial burden of rising textbook costs on students. The purchase nearly doubled the number of textbooks on reserve in the college's libraries available to all students.
Prior to Hancock, Curry spent 13 years at State University of New York (SUNY) Alfred State College. Curry served as dean for the school of arts and sciences his final four years at Alfred State. He also spent time as an assistant professor, associate professor and department chair.
Curry earned a bachelor's degree in comparative literature, creative writing from San Francisco State University. He went on to receive a master's degree in English from California State University, Chico and a Ph.D. in English from University of Connecticut.
Curry officially begins his new position July 1. He will replace Melinda Nish, Ed.D., who has been serving as the interim vice president since George Railey, Ed.D. resigned earlier this year.
- AHC -
Caption: Academic Dean Bob Curry, Ph.D. has been named Allan Hancock College's new associate superintendent/vice president, Academic Affairs. He begins his new position on July 1.