College Signing Day Recognizes Hundreds of Hancock Transfer Students
College Signing Day Recognizes Hundreds of Hancock Transfer Students
Transferees celebrated their accomplishments at the college's third-annual event
MAY 4, 2018--A line of Allan Hancock College students spanned from Room G106 to the entrance of the Rabobank Student Center as hundreds of transfer students waited to celebrate their accomplishments at the third annual College Signing Day.
Students transferring to four-year institutions proudly wore their new school gear from universities such as Cal Poly, San Luis Obispo, Cal State Fullerton, UC Santa Barbara, and Sacramento State. Twin sisters Jacqueline and Kaetlyn Steller wore identical Cal State Fullerton sweatshirts.
"We're going to the same school and we chose the same major," said Jacqueline. "We're really lucky that we have each other," said Kaetlyn.
The event served as an opportunity for students to network with future classmates and relieved those fears about life after Allan Hancock College. Cal Poly transfer student Anel Calderon felt at ease knowing she will have support from other Hancock students.
"It makes me feel so much better," said Calderon. "It's so good to know that I will be keeping in touch with my AHC family and that we can help each other wherever we go."
Luis Lopez is another Cal Poly-bound student who sat at a table filled with other Mustang transferees.
"I was curious to see how many of us would transfer as a kind of confidence booster and to see the diversity," said Lopez. "I feel more comfortable now that I see how many are transferring."
In addition to networking, students signed posters, entered a raffle for prizes, posed for the camera in front of the college's step-and-repeat walls and enjoyed a pizza lunch while listening to advice from Associate Superintendent/Vice President Nohemy Ornelas and University Transfer Center counselor Ashley Brackett.
"I hope that by sharing some of our own personal experiences, and letting our students know it's okay to ask questions, they will feel encouraged and confident about asking for help in their new schools," said Ornelas.
"The students have worked so hard to reach this moment," said Brackett. "We're very proud to help throughout the transfer process."
More than half of the transfer students will also walk during the college's commencement ceremony on May 25.
- AHC -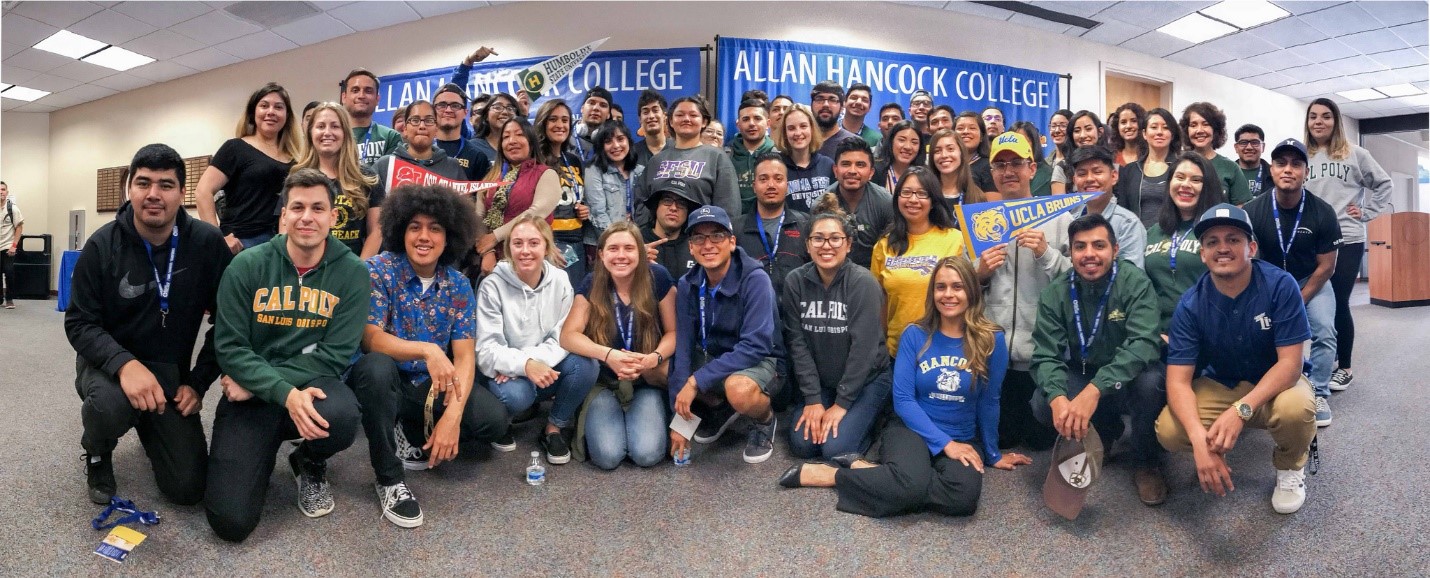 Caption: Hundreds of Hancock transfer students celebrated their accomplishments at College Signing Day on Tuesday, May 1.