Graduating with Distinction: Record 1,009 Students Graduate from Allan Hancock College
Graduating with Distinction: Record 1,009 Students Graduate from Allan Hancock College
The 97th annual commencement was held in The Commons on the Santa Maria campus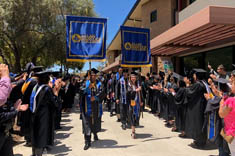 MAY 25, 2018--Allan Hancock College celebrated the end of a record-setting year during the college's 97th annual Commencement Friday afternoon on the Santa Maria campus. A record 1,009 students earned a record 1,527 associate degrees in 96 different majors. The number of students represented an increase of two percent over last year, while the college experienced an eight-percent jump in degrees earned. Students also earned 853 certificates of achievement in the last year, a four-percent jump over last year.
"Allan Hancock College is your community college," said Hilda Zacarías, president of the Allan Hancock College Board of Trustees. "It is a place to imagine your future and a place to make it happen. Whether you are going to continue your education at the university level or start a new career, today is the day that marks the start of your new journey."
Fifty-seven percent of the 1,009 graduating students are female, and the median age of students graduating is 24. The youngest graduate, Sarah Montanaro, turned 18 in December 2017. Montanaro earned two associate degrees for transfer in social and behavioral science and communication. The oldest graduate, 68-year old Erich Enberg, earned his associate degree in viticulture.
"I have never seen a class more passionate and dedicated that the class I see before me today," said Associated Student Body Government President Frankie Maldonado. "When I look into this crowd, I see future military, doctors, nurses, lawyers, first responders, mathematicians, engineers, teachers, but most importantly, I see kind-hearted people who are going to rise up and leave their mark on the world."
The class of 2018 has already left its mark on the college. Thirty-one percent of the graduating class earned two or more degrees. Three Hancock science, technology, engineering and mathematics (STEM) students will receive an incredible eight degrees each: Bianca Aleman, Esther Lopez-Cruz and Adan Martinez-Cruz. Both Aleman and Lopez-Cruz will transfer to Cal Poly, San Luis Obispo. For the seventeenth year in a row, Allan Hancock College students had the highest transfer acceptance rate in the state to Cal Poly, SLO. Fifty percent of Hancock students who applied to transfer into Cal Poly in fall 2018 were accepted, more than triple the state average of 15.6 percent.
"Compared to their peers with a high school diploma, the graduates sitting before you are more likely to vote, will see their lifetime earnings more than double and will engage in civic activity at a higher rate," said Hancock Superintendent/President Kevin G. Walthers, Ph.D. "They are less likely to be unemployed, more likely to have stable family lives and will have the opportunity to enjoy a higher standard of living. More importantly, they will, on average, earn $400,000 more over their careers than their peers without a degree."
One-hundred and eighty-five graduates received honors for having 3.5-3.99 grade point averages, while 11 received high honors for 4.0 GPAs, including Montanaro. The most popular associate degrees earned this year were liberal arts-transfer: social and behavioral sciences (167), liberal arts- non-transfer: social and behavior sciences (143), and liberal arts-transfer: mathematics and sciences (134).
Faculty speaker Linda Metaxas shared her academic story filled with twists and turns along the way. Metaxas encouraged students to embrace the journey ahead of them and to treat each obstacle as an adventure.
"Life is rarely a straight path," said Metaxas, who is retiring this year after teaching physics for almost 20 years at the college. "So what should you do if you run up against disappointment? Certainly don't give up. Never give up! But, you might try a new direction. If one door closes on you, keep your eyes open for another one to open. When an unexpected possibility presents itself, take it! Don't turn your back on an opportunity, just because it does not fit into your plan."
"This is a very special day of the year because today is about celebrating your accomplishments and remembering this as a milestone in your journey whether you are starting a new career or heading off to a university," said Associate Superintendent/Vice President, Student Services Nohemy Ornelas. "Each of you has a unique journey—your own story of perseverance and overcoming challenges to achieve your degrees. You represent the greatness of Allan Hancock College."
- AHC -
Caption: A record 1,009 students earned a record 1,527 associate degrees in 96 different majors.