Changing the Odds for a Better Future: Hancock Recognizes Achievements of Noncredit Students
Changing the Odds for a Better Future: Hancock Recognizes Achievements of Noncredit Students
More than 120 noncredit students honored at annual ceremony
MAY 23, 2018--Adriana Olea confidently walked to the podium and red microphone to deliver her academic testimony to more than 100 of her peers at Allan Hancock College's Noncredit Recognition Ceremony on Friday, May 18. Years ago, she would rather have worked in the strawberry fields than enter a classroom.
"I always told myself that the classes were too hard and that I was never going to accomplish anything since no one in my family had ever graduated from high school," said Olea in her address. "That's how it was for years…never finishing what I started. I looked for something to blame until one day I realized what I was lacking was self-confidence."
Over the course of 10 years, Olea obtained a career development certificate in noncredit English as a Second Language (ESL) and her GED. She transferred into credit classes for accounting. Olea will graduate with her associate degree in accounting and will walk at the commencement ceremony on Friday, May 25. She currently works as an instructional assistant for the college and hopes to transfer to Cal Poly, San Luis Obispo, to become an instructor herself.
"Believing in oneself is a strong weapon and the first step in reaching your goals," she continued. "We will find ourselves in situations where we doubt if we can complete our goals, but we have to keep in mind that the things that cost us the most are the things most worth pursuing. The key is to persevere and never give up despite adversities that come our way."
More than 120 noncredit students completed their goals through Allan Hancock College's Community Education program this year. Sixty students successfully completed the GED or HiSET exam. They will receive their diplomas from the state of California. Sixty-five students collectively obtained 73 career development certificates to prepare for employment or to transition to college-level credit courses.
"We are here to celebrate your accomplishments, and that's what we are here to do in serving you: to help you achieve those goals," said Hancock Superintendent/President Kevin G. Walthers, Ph.D.
The Noncredit Counseling department serves to support noncredit students from the admission process through registration. The department also provides academic, career and personal counseling. Counselor Dayana Zepeda helps guide students through the process of obtaining career development certificates and transitioning to credit classes.
"We are so proud of our students," said Zepeda. "We provide follow up services, orientation and counseling services to our students throughout the year. This ensures that students remain on track to achieve their goals. Seeing them here at the ceremony is the most rewarding part of the process."
The noncredit counselors also identify potential scholarship recipients like Alejandro Carreño. Representatives from Emerald Wave Media's Spanish radio station, La Buena, Santa Barbara Family Dentistry and the office of doctors Hendrick Gonzalez and Ruth Garzon presented the Jóvenes al Éxito Scholarship to Carreño at the ceremony. Carreño is one of two students transitioning to credit classes who received the scholarship.
"I want to thank Allan Hancock College for the opportunity to learn English tuition-free," said Carreño. "Many people give up if they do not put in the effort to learn the language. However, we must do our part to learn it and to achieve our goals."
Leonardo Flores came to the United States 13 years ago from Guerrero, Mexico, with no education. When he arrived, Flores spoke Mixteco Bajo, one of 59 indigenous Mixteco dialects, and Spanish. He is now trilingual and certified in tax preparation.
"My parents were poor and could not give me an education," said Flores. "This community college gave me the opportunity to learn English. I started learning four years ago, and now I can communicate with other English-speakers."
Flores will continue studying English at Hancock in credit classes and is interested in the Career Technical Education programs for welding, graphic design, automotive technology and the electrician program. He plans to enter the workforce after obtaining his additional certificates and hopes to start his own business.
"I want to encourage everyone to come and study," said Flores. "There is opportunity here. I am very happy to be here and am grateful for the opportunities I have had to study English, computation and even sewing!"
Joan Shea casually started her journey in Community Education by simply joining a class with a friend. This year, she received her clothing construction certificate and another certificate in clothing alterations.
"Anybody in the community can come in and do a program here," said Shea. "You can try anything you want. If you want to try to do some gardening, you can do the gardening certificate. If you want to try sewing, you can do what I did. Anybody can try it, then go on, and see what they really want to do and get a feel for what they want to do."
- AHC -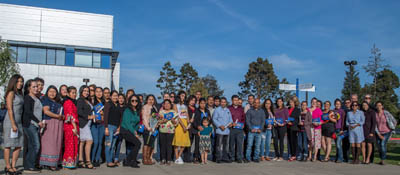 Caption: Community Education and Noncredit Counseling recognized more than 120 noncredit students at the annual Noncredit Recognition Ceremony on Friday, May 18.