Allan Hancock College Foundation Accepting Applications for Community Ambassador Program
Allan Hancock College Foundation Accepting Applications for Community Ambassador Program
Prospective members have until July 31 to apply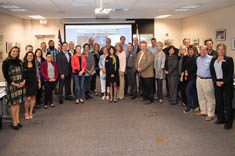 MAY 16, 2018--After the success of its first year, the Allan Hancock College Foundation is accepting applications for its second year of the Community Ambassador program.
The Community Ambassador program provides an executive-level introduction to the college through workshops with various academic departments and campus organizations. The class of 2018-2019 will cultivate relationships between the campus, community influencers and local business leaders.
"The Allan Hancock College Ambassador Program builds stronger awareness in the community by exposing its qualities, goals for current students and motivating new students," said Rene Zavala. "As an ambassador and having this broader perspective, I can help generate possibilities for tomorrow's generations."
The ambassadors will meet on-campus for six half-day sessions starting in August through July 2019. Each session will highlight a different area of the college. They will also receive exclusive access to the college's special events and activities.
Among the planned sessions: a tour of the prestigious Public Safety Complex at the Lompoc Valley Center, a classroom visit in both our credit and noncredit departments, and the opportunity to meet student leaders on campus. Ambassadors will also participate in a number of student-led presentations.
"Every year, I interview high school students for the Scholarship Foundation of Santa Barbara," said Cynthia Moreno, retired educator from Santa Maria High School. "This year, I was able to give very specific information on a Hancock program to help a student make a decision about his future career path. His heartfelt 'thank you' as we finished our interview made me realize the importance of the information we receive as community ambassadors and how it impacts lives."
The ambassadors will be selected through an application and interview process. To view the tentative schedule or apply for the program visit the Allan Hancock College Foundation's website at http://www.hancockcollege.edu/foundation and download the application. The first session is set for August 2018.
There is a non-refundable application fee of $25. Please mail your application to College Advancement, 800 S. College Drive, Santa Maria, CA 93454. For more information, contact Natalie Rucobo at 805-925-2004.
- AHC -
Caption: The AHC Foundation is accepting applications for the 2018-19 Community Ambassador program. Above: a snapshot of the inaugural class of 2017-18.