Hancock Student Wins SkillsUSA State Competition to Advance to Nationals, Hopes to Inspire Women in the Process
Hancock Student Wins SkillsUSA State Competition to Advance to Nationals, Hopes to Inspire Women in the Process
Gold medal winner Lorena Hernandez will put her skills to the test in Kentucky in June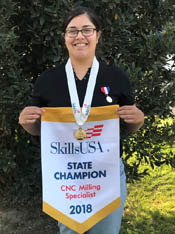 MAY 10, 2018--Lorena Hernandez is on a mission. The Allan Hancock College student wants to inspire women to pursue a career in an industrial setting, a space some feel is reserved for men. Until now, Hernandez has let her machining skills do the talking. The Santa Maria native won a gold medal in the computer numerical controlled (CNC) machining category during the SkillsUSA California Competition last month. Next up for Hernandez is the 2018 SkillsUSA National Championships June 25-29 in Louisville, Kentucky.
"It is an once-in-a-lifetime opportunity to use the skills I learned at Hancock and represent the college as a woman in a national competition," said Hernandez. "I am excited to see the level of difficulty of the competition and see how my skills compete against the best in the nation."
SkillsUSA is a national organization for students in trade, industrial, technical and health occupations education. The organization holds competitions annually to recognize the achievements of career and technical education students and to encourage them to strive for excellence. The national championships are part of the 54th annual National Leadership and Skills Conference. More than 6,000 students, all state winners, will compete in 100 different trade, technical and leadership fields.
CNC milling performs the functions of both drilling and turning machines by programming them with a set of codes. Hernandez was introduced to the wonders of machining and manufacturing while a student at Pioneer Valley High School.
"My class visited Haas Manufacturing during a field trip. Seeing the equipment there in that setting got me excited about the possibilities," recalled Hernandez. "When I came to Hancock, I saw the college offered an introduction to machining course. I signed up for it and fell in love with it."
Hernandez works part-time at Helical Products in Santa Maria. Knowing firsthand that machining is a male-dominated field, Hernandez hopes her success at the local, state and national levels encourages more women to pursue industrial technology careers and take introductory classes at Hancock.
"Taking a machining class led to me finding my passion and what I am good at doing. As a result, I feel more independent, empowered and accomplished. I feel more secure in my career and that I can succeed at anything," said Hernandez. "I want to be an example for women because I know it can be scary to think of yourself working alone in a 'man's' world."
Hernandez was one five SkillsUSA students from Hancock who competed and won medals at last month's state competition. Nearly 4,000 high school and college students competed in almost 50 occupational skills contests. Hancock student Joseph Biggs received a bronze medal in the auto service technology event. Chris Chavez, Jacob Rantz and Anthony Lara earned a bronze medal for the college in the welding fabrication team competition.
According to Patrick McGuire, an automotive technology instructor and department chair at Hancock, students who compete in SkillsUSA not only improve their technical skills, but also become more valuable for employers. More than 80 percent of the competition involves presentation, communication and leadership.
"Our students get better when they compete and they've shown they are the best or among the best in California," said McGuire. "I want our SkillsUSA students to be seen as equivalent to student-athletes. The state and national competitions represent the pinnacles of their fields."
As for Hernandez, she plans to continue her ascent to the pinnacle of her field by winning a gold medal at nationals and inspiring others in the process.
Hancock students, who participate in competitions, register for a SkillsUSA class offered by the college each semester. The college will offer SkillsUSA classes in auto body technology, architecture, automotive technology, electronics and machining/manufacturing technology during the fall semester. Fall classes start August 20 and registration is under way for both summer and fall classes. To check out the class schedule for the summer and fall semesters, visit www.hancockcollege.edu, select Class Search and find the specific semester.
- AHC -
Caption: Allan Hancock College student Lorena Hernandez advanced to the SkillsUSA National Championships by winning a gold medal at the SkillsUSA State Championship in the CNC milling category. Hernandez hopes her success inspires more women to pursue industrial technology fields.