Hancock's Y.E.L.L. Conference Inspires High School Students to Return as Hancock Promise Students
Hancock's Y.E.L.L. Conference Inspires High School Students to Return as Hancock Promise Students
Motivational speakers, workshops, prizes among event activities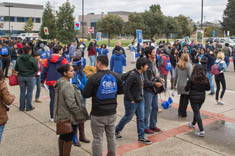 MARCH 2, 2018--Nearly 500 high school seniors from Nipomo and the Lompoc, Santa Maria and Santa Ynez valleys traveled down the path to The Hancock Promise Friday. Allan Hancock College hosted its annual Young Educated LatinX Leaders Conference, more commonly known as the Y.E.L.L. Conference, on the Santa Maria campus.
Organizers hoped to empower and inspire students, as well as show them that a college education is attainable for everyone, especially with The Hancock Promise. The Hancock Promise allows students who graduate from district high schools to receive their first year tuition free at Allan Hancock College beginning this summer.
"We want students to know about The Hancock Promise and the steps they need to take to receive their first year free," said Yvonne Teniente, dean of Student Services at Hancock. "We also want students to connect and feel engaged with the college and understand there is a big group of staff and counselors here ready to help them succeed."
Hilda Zacarías, president of the Allan Hancock College Board of Trustees, welcomed students to the event. She was one of the original founders of the conference several years ago.
"Y.E.L.L. is about helping young people discover their own inspiration," said Zacarías, who hosted a workshop later in the day called Leadership Today and Every Day.
The event featured two keynote speakers: Victor Rios, Ph.D., a sociology professor at UC Santa Barbara and published author; and Ernie G, one of the most popular young Latino entertainers and comics in the nation.
Ernie G wanted students to take away two key messages from his presentation: let your light shine; and if it is to be, it is up to me.
"Everybody's light gets dim from time to time, we have to remember what it takes to reignite it and be who they truly are," said Ernie G.
Millions of people have viewed Ernie G's comedy routines on networks such as HBO, Galvisón, B.E.T., Comedy Central and NBC. He developed his own form of comedy that he calls Latino Edutainment – educating and entertaining with a Latino flavor.
"It is a lot easier to pass on powerful messages when people laugh because they open their minds and their hearts," said Ernie G.
Rios has published numerous books on inner-city youth experiences, education and adversity.
"Everyone faces adversity. Students need to know they can either let it break them or use it to break records," said Rios. "Each student can overcome obstacles and become leaders."
Students also attended one of 15 available workshops. Some of the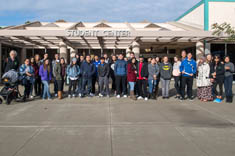 workshop topics included self-empowerment, leadership, financial aid, nursing careers, being an undocumented and AB540 students, as well as The Hancock Promise.
After spending the day at Allan Hancock College, many students said they could not wait to return to campus in a few months as part of the inaugural class of The Hancock Promise.
"I feel very inspired and motivated after this conference," said Christian Camacho, a senior at Pioneer Valley High School who plans to attend Hancock as a Promise student in the fall. "To hear stories from so many people who were in my shoes and are now doctors and vice presidents, I can't wait to be a Hancock student in a few months."
"I learned a lot of important information about the college, as well as the services and people willing to help me thrive at Hancock," added Carla Perez, a senior at Lompoc High School. "It makes me happy to know I will able to come back in a few months and be a college student for free and focus on making my parents proud. Hopefully one day, I'll be a guest speaker at this conference."
On top of free tuition and fees for one year, The Hancock Promise provides students with free tutoring, personalized counseling, priority registration and much more. To learn more about The Hancock Promise, visit www.hancockcollege.edu/promise.
- AHC -
Caption: More than 500 high school students attended Allan Hancock College's Young Educated LatinX Leaders (Y.E.L.L.) Conference Friday. Organizers hoped to empower and inspire students, as well as show them that a college education is attainable for everyone, especially with The Hancock Promise.