Hancock's Annual Fine Arts Faculty Art Exhibit Opens, Showcases Diversity and Talent of Instructors
Hancock's Annual Fine Arts Faculty Art Exhibit Opens, Showcases Diversity and Talent of Instructors
The show is free and open to the public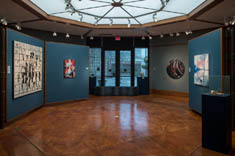 MARCH 20, 2018--Allan Hancock College boasts a talented pool of artist-teachers in its exceptional fine arts department. Their creative efforts are featured in the college's annual Fine Arts Faculty Art Show, exhibiting in the Ann Foxworthy Gallery on the Santa Maria campus through April 12. The artists created the pieces in a broad range of media including drawing, mixed media, acrylics, oils, digital art, ceramics, metal, wood and photography.
"This inspiring show is a longtime tradition that allows students and visitors an opportunity to appreciate the depth and breadth of talented artists who teach in the fine arts program," said Marti Fast, gallery director and long-time fine arts instructor.
The free exhibit features the work of numerous instructors including: Fast; Glenn Hiramatsu; David Passage; Cheryl Weiss; Adrienne Allebe; Patrick Trimbath; and Mike McNutt.
Three pieces by Allebe are included in the exhibit: Creating a Space for Dreams to Break In, Two Hearts Beat as One, and Psychedelic Intercontinental Ballistic Lovefest. The inspiration for her art included in the show ranges from exploring how humans transformed or affected the landscape of Santa Barbara County to unveiling the unknown or supernatural forces.
"I want people to be intrigued by my work enough that they keep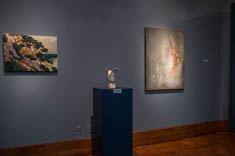 looking at it for a while, and it makes then think or feel something," said Allebe. "I love hearing a viewer's interpretation of my work. It's an added bonus if they sense even a fragment of my intentions and specific inspiration."
Gallery visitors will be able to see three works created by Passage: The Romance of the West, Crossing the River and Heart's Needle.
"The pieces are meant to be whimsical, but are thoughtful at the same time. I like that although they are sculpture, they look just like how I draw," said Passage. "Crossing the River is about mass extinction. The Romance of the West is about my father coming west from New York after World War II to make a new life and start a new career. Heart's Needle is about loss."
A celebratory reception for the artists will be held on Wednesday, March 28, from 2-4 p.m. in the gallery. The public is invited to meet the art faculty and see their work. The show is free and open to the public and on display through Thursday, Apr. 12.
The Foxworthy Gallery is open Monday-Thursday from 9 a.m. to 7:30 p.m., Friday from 9 a.m. to 3 p.m., and closed weekends and school holidays. The gallery is located in Room L-102 near the Academic Resource Center, Bldg. L-South, on the Santa Maria campus. Parking passes are $2/vehicle and are required on campus. Questions? Contact Fine Arts at ext. 3252, or Marti Fast, gallery director, ext. 3465.
- AHC -
Caption: The creative work of Allan Hancock College fine arts instructors are featured in the annual Fine Arts Faculty Art Show, exhibiting in the Ann Foxworthy Gallery on the college's Santa Maria campus through April 12.