Hancock's New Spanish Debate Team Wins Cal Poly Competition, Earns First Team Victory
Hancock's New Spanish Debate Team Wins Cal Poly Competition, Earns First Team Victory
The debate team consists of 11 Hancock students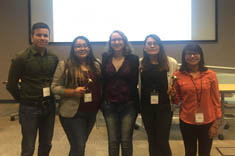 MARCH 14, 2018--Students in Allan Hancock College's new Spanish debate team earned first and second place during a Spanish debate competition, called Los Legados de Valladolid, hosted by Cal Poly, San Luis Obispo last week. The competition featured three teams of Hancock students and three teams from Cal Poly. Two Hancock teams advanced to the finals, where Adilene Rojas and Elisa Velasco defeated Jennifer Camacho Tiburcio and Erick Ramirez Medina.
"It feels awesome to win our first competition," said Velasco, a Spanish major and debate team member at Hancock. "It shows that if teachers and students put in the effort together, we will go far. It's our goal to put the Allan Hancock College Spanish debate team on the map with other colleges and universities."
The topic of the event was Derechos Humanos Universals vs. Nativism. Rojas and Velasco defended the negative side of the idea that nativism is a danger to universal human rights. Ramirez Medina and Camacho Tiburcio defended the affirmative side.
"I was so nervous," admitted Rojas. "It was a very gratifying experience because I learned new ways of thinking, new words and new skills. I also met new people, bonded with my teammates and created many wonderful memories."
One of the student debaters from Cal Poly, Meagan Boyd, was a finalist at the Campeonato Mundial Universitario de Debate en Español, an international competition hosted in Guatemala last fall.
Instructors started the Spanish debate team at Hancock in fall 2017. Initially, the team participated in friendly debates with the Cal Poly Spanish debate team. The most recent competition was the Hancock team's first formal debate competition and very first victory.
"We worked daily to prepare for the event. We even met and debated until midnight via Skype the day before the competition," said Claudia Díaz, a Spanish professor at the college and Spanish debate team coach. "We worked diligently with our students to research the topic provided, then identified and debated affirmative and negative arguments."
After starting with five students last semester, Hancock's Spanish debate team now includes 11 students who gain invaluable and life-long skills.
"By having an opportunity to compete, our students gain a sense of leadership, accomplishment and confidence," said Dr. Ana Gómez de Torres, a professor of Spanish at the college and Spanish debate team coach. "Students also enhance their Spanish oral proficiency skills, ability to organize thoughts, improve their critical thinking skills and ability to present well-structured arguments supported by evidence."
Díaz and Gómez de Torres also praised Hancock administrators, Dean Yvonne Teniente and Dean Sofía Ramírez-Gelpí, for supporting the team.
The Hancock Spanish debate team plans to host a debate, Equinos Chatos Debate, with Cal Poly in the fall.
- AHC -
Caption: Allan Hancock College's new Spanish Debate team earned first and second place during the inaugural Spanish debate, Los Legados de Valladolid, hosted by Cal Poly, San Luis Obispo last week. (l to r: Second-place finishers Erick Ramirez Medina and Jennifer Camacho Tiburcio of Hancock; Meagan Boyd of Cal Poly; and first-place recipients Adilene Rojas and Elisa Velasco from Hancock.)