Hancock Unveils Student Mural Outside Its Santa Maria Library
Hancock Unveils Student Mural Outside Its Santa Maria Library
The mural stands 16' by 8' tall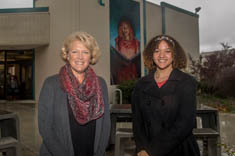 MARCH 14, 2018--The Art on Campus Committee started a new chapter Tuesday in its quest to enrich the cultural and intellectual life at Allan Hancock College. The committee unveiled and dedicated a new mural, Captured, on the eastern wall of the college's Santa Maria Library, bldg. L North. Hancock student Cheryl Clark created the eight-piece mural, which stands 16-feet tall and 8-feet wide. The mural depicts a young woman in a red dress, who is smiling and holding a large book with light emitting from the pages.
"I was excited and relieved today when I saw the mural pieced together for the first time. I am very proud," said Clark. "I am also grateful that Allan Hancock College provides opportunities like this to young artists and sees the value of displaying student and faculty art."
Clark said the inspiration for Captured is recreating that moment when a person realizes how lucky he or she is to have picked up a specific book to read.
"It's that moment when you know you're going to forgo your plans with friends so you can read the next few chapters. It's when the characters on the pages become as real as family, and when you put off reading the last few chapters because you don't want it to end," Clark explained. "I want people to see the art and wonder, 'What book is she reading? Why is she smiling?' I want them to be drawn to the library and inspired to read."
The project forced Clark to go outside of her comfort zone numerous times. She found ways to overcome the size of the artwork, as well as her background in working primarily with colored pencils and painting exclusively in oils on smaller, more detailed projects.
"I set up a corner of my house and dubbed it my studio. I dedicated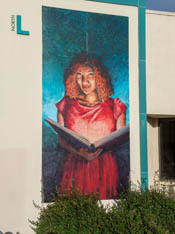 an entire wall to hold two panel pieces at a time and that is where the painting began," recalled Clark. "I knew I wanted a looser style, more impressionism and less realism. I think the acrylics worked nicely as I layered them and the personality of the painting began to come through."
The muse in Captured was Clark's daughter, Hailey, an artist herself, who will start attending Hancock in the fall as part of the college's inaugural class of The Hancock Promise.
"I think it's really cool to see myself on the wall," said Hailey Clark. "I am proud of my mother for completing a project of this size. and I think it looks great."
The 8'x16' mural is made of PVC paneling and polytab fabric.
"Captured is the first mural installed on campus to feature two working materials," said John Hood, the college's fine arts department chair and Art on Campus member. "We hope it helps the mural last even longer."
Later this year, the committee plans to install and celebrate art created by students and long-time fine arts faculty on the Santa Maria campus and Lompoc Valley Center.
"Public art, especially student art, makes the college more welcoming, engaging, as well as visually and intellectually inspiring," said Patrick Trimbath, fine arts faculty and co-chair of the Art on Campus Committee. "Public art creates a deeper interaction with the places where we work, study and live. I can't think of a better location for art that depicts the love of reading and knowledge than outside a college library."
- AHC -
Caption: Cheryl Clark (pictured left) and her daughter, Hailey, (right) proudly stand before Clark's mural, Captured, installed on the library wall of Allan Hancock College's Santa Maria campus. The 8'x16' mural features Hailey Clark and depicts that moment when she realizes she cannot put the book down until it is finished.