Oscar Nominee to Discuss Award-Winning Documentary at Hancock
Oscar Nominee to Discuss Award-Winning Documentary at Hancock
The event is free and open to the public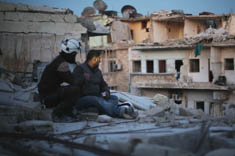 MARCH 14, 2018--Allan Hancock College's film and video program will host Academy Award-nominated director Feras Fayyad on Friday, March 16, at 3 p.m. in building O, Room 307. Fayyad will discuss his award-winning documentary Last Men in Aleppo. The event is free and open to the public.
Fayyad won the Grand Jury Award at the Sundance Film Festival this year. He has received recognition for his work about Syrian issues and the political transformation in the Arab world. He was jailed and tortured by Bashar Assad's regime because of his controversial filmmaking. Now, he is the first Syrian filmmaker to have a film nominated for an Oscar.
Hancock film and video faculty Tim Webb met Fayyad at a showing of Last Men in Aleppo at the Edinburgh International Film Festival last year.
"I am hoping our students understand that they are capable of doing important documentary work themselves," Webb said. "Putting students in contact with world-class filmmakers like Fayyad will help them see themselves as part of a larger community extending beyond Santa Maria and into the larger world."
The film follows the efforts of the White Helmets during the Syrian Civil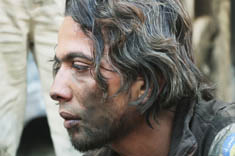 War. The organization consists of ordinary citizens who are the first to rush towards military strikes and attacks in the hope of saving lives.
"The Syrian conflict is still raging after seven years, and our students often do not understand the conflict or the consequent refugee crisis. Students will have the opportunity to learn about the conflict and the masterful filmmaking of the director," said Webb.
Hancock's film and video program is presenting a special screening of Last Men in Aleppo at the San Luis Obispo International Film Festival. The event is co-sponsored by Cal Poly's College of Liberal Arts. The screening will take place at the Fremont Theater on Saturday, March 17, at 3 p.m. A question and answer session will follow. Tickets for Cal Poly and Hancock students are $5 at the door with student ID. General admission is $15. A percentage of all ticket sales and donations will go towards White Helmets International.
- AHC -
Caption: Last Men in Aleppo director Feras Fayyad will speak about his award-winning documentary at Hancock this Friday, March 16. Hancock's film and video program is sponsoring a screening of the film at the San Luis Obispo International Film Festival.