Five Hancock Clubs Look for Community Support in College's Annual Love Your Club Crowdfunding Campaign
Five Hancock Clubs Look for Community Support in College's Annual Love Your Club Crowdfunding Campaign
Join the crowdfunding movement, no donation is too small!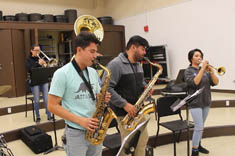 MARCH 12, 2018--From helping students feed the homeless, sending architecture students to a design competition and funding scholarships for Dream Act students, there are five student clubs at Allan Hancock College that need the community's support to reach their goals. The college will launch its second annual Love Your Club campaign Monday, March 12, hoping the community will show its love and impact students' lives by donating online.
"Love Your Club is a great platform to utilize the social media networks of our students, staff and supporters to reach a wider audience for appeal," said Stephanie Robb, Hancock's student activities coordinator. "The five clubs have proposed small projects with the potential to make big impacts. Everyone will be able to identify and connect with at least one of the projects."
The five student groups include the American Institute of Architecture Students (AIAS); the Jazz and Pep club; the Drama club; the Alpha Gamma Sigma (AGS) Honor Society; and the DREAM club. The groups' fundraising goals range from $1,000 - 3,000.
"We are grateful to Allan Hancock College for its support of this activity by providing an opportunity for crowdfunding," said Mary Alice Majoue, co-advisor of the AGS Honor Society. "We are excited about the potential of this project and are looking forward to putting on many more breakfasts at the Good Samaritan Shelter."
The campaign runs through Monday, April 9. Supporters can donate online at crowdfunding.hancockcollege.edu. Donations are tax deductible and will be distributed directly to the groups by the Allan Hancock College Foundation.
The crowdfunding webpage includes links for people to learn more about the groups. Every student group has a webpage that includes videos, photographs, descriptions of what they are fundraising for and how they plan to use the funds, as well as a place for people to donate.
Groups also explain what donations will buy. For example, every $25 donated to Alpha Gamma Sigma will sponsor breakfast for 10 people; a $25 donation to the Drama club will result in a personalized thank you, a dramatic reading of your name on the club's Instagram account, and a short, personalized song.
The Dreamers, Resources, Empowerment, Advocacy and Mentorship club, better known as the DREAM club, provides guidance, support and resources to undocumented students. The club's fundraising goal is $2,500 to provide two scholarships to help undocumented students reach their educational goals; pay for the club's expenses; and create a DREAM Center on campus.
"It's important for DREAMers and undocumented students to feel supported and know about all of the resources on campus and in the community," said Yesenia Beas, DREAM club president and student trustee. "Our ultimate goal is to establish a DREAM Center where undocumented students can receive peer mentoring, legal service referrals, counseling, financial aid assistance, and just a place to study or socialize on campus."
The Jazz and Pep club set a $1,000 goal to repair instruments and purchase new instruments for students. The band performs during community and college events, like Hancock football and basketball games. People who donate $50 to the club will receive a club t-shirt, while the band will play any song of the donor's choice for a $125 gift.
"A donation to our club will help build the music community at the college," said Scott Anderson, president of the Jazz and Pep club. "Ultimately, we want to develop a jazz combo program and continue building and organizing our musical library."
The AIAS club set a goal of $1,000 to help three teams of students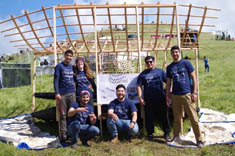 pay for materials needed to compete in Design Village, a three-day competition hosted by Cal Poly, San Luis Obispo. Students design, plan, build and live in a structure. Funds will pay for membership fees, transportation and materials.
"Each group interprets the given theme, which this year is 'balance.' And we design, transport and build a structure to shelter six students for two nights," said Derek Orlick, AIAS president. "A donation to AIAS is an investment in future architects and engineers. It allows us to learn by doing and showcase what we have learned at Allan Hancock College."
Students in the Drama club produce and perform free outdoor theatre for the community. The $3,000 they hope to raise will support their mission of sharing a variety of stories from diverse backgrounds by paying for production and costume costs.
"A donation to our club will help us share stories that are often left untold," said Jessica Garcia, president of the Drama club. "We are in the middle of rehearsals for our next play that we will perform for free on campus. Donations will also fund outreach projects with local high school drama clubs and launch a pageant wagon to take our plays to local schools and the Lompoc Valley Center."
The college's Alpha Gamma Sigma Honor Society (AGS) is looking to raise $1,000 to purchase food and items necessary to prepare hot breakfast for the homeless at the Good Samaritan Homeless Shelter in Santa Maria. AGS students prepare and serve food at least twice a semester and chose to provide breakfast after learning the shelter only serves dinner to residents on a daily basis.
"Students facilitate the entire event, including: shopping, preparation, cooking, serving, cleaning, and even making sure we have people greeting anyone and everyone," said Majoue. "Our honors students also leave each breakfast with greater compassion for the less fortunate and increased gratitude for what they have in their own lives. It is also an opportunity for students to improve their leadership skills and impact the community."
Club members are responsible for publicizing the the Love Your Club campaign to their friends, family and community.
"Even if a person doesn't want to contribute financially, they can help by sharing the love," said Robb. "We want people to share with friends on Facebook and Instagram, tweet it or forward an email. One of the greatest things about crowdfunding is it has unlimited potential because it's so easy to donate or spread the word on your computer and cell phone."
Nearly 200 people contributed to last year's campaign, raising more than $15,000 for student clubs.
The Love Your Club campaign runs through Monday, April 9. Donations can be made online at crowdfunding.hancockcollege.edu. For more information, contact the College Advancement office at 1-805-922-6966 ext. 3675 or email nrucobo@hancockcollege.edu.
- AHC -
The Jazz and Pep club (pictured left) and the American Institute of Architecture Students (AIAS) club (pictured right) are two of the five student clubs selected for Allan Hancock College's second annual Love Your Club campaign. Community members can donate online to help impact students' lives. Donations can be made at crowdfunding.hancockcollege.edu through April 9.