Hancock Wines Win Big at the Orange County Wine Competition
Hancock Wines Win Big at the Orange County Wine Competition
The event is the largest and most comprehensive judging of California wines in the world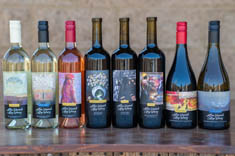 JUNE 22, 2018--Four Allan Hancock College Winery varietals scored high at the 42nd annual Orange County Fair Commercial Wine Competition held, June 2-3. The 2016 albariño received a bronze medal, the 2016 Torrontés took the silver medal with 85 points, and both the 2016 malbec and 2016 syrah placed gold with 90 and 92 points, respectively.
"I am proud of all the students and professors that were involved in the production process," said Agribusiness Program Director and Professor Alfredo Koch. "I personally enjoy these wines very much and am excited that they are being recognized for their greatness."
The albariño, syrah and Torrontés grapes are grown on the Allan Hancock College campus vineyard located behind the baseball and softball complex. The malbec grapes are grown in Paso Robles. The wines are professionally made by Hancock faculty and are bottled through the Hancock Viticulture and Enology Foundation on the Santa Maria campus. Students learn every phase of wine production under the instruction of agribusiness faculty.
"We have an educational winery with a small but fine production, and our aim is to collaborate with all wineries in the community that support us," said Koch. "We hope to continue to train students to succeed in the wine industry."
The Orange County Fair's competition is the largest and most comprehensive judging of California wines in the world. The competition attempts to judge every grape wine made in California that is commercially available in Orange County. All wines were judged by professional wine makers or wine principals.
"The quality of our wine is a great calling card to bring more students into our program and to attract the community, wine-buying consumers, restaurants and retailers," said Hancock Winery Operations Manager David Corey.
"By participating in the community and improving the relationship between our industry and our community, we hope to inspire more people to get involved with our local wine industry," said Koch. "With our increased visibility in the community, my vision is to build a wine center in Santa Maria in order to provide more educational and promotional activities."
The Allan Hancock College Winery is open for tastings every Friday from 2-6 p.m. The winery is located in building O, Room 211, on the Santa Maria campus with easy parking access from lot 7. The college currently has 11 different wines for sale and four wines available for tasting, including all four award-winning wines. Tasting flights may also include chardonnay, pinot noir rosé, pinot noir and syrah.
For more information about the college winery or to purchase Hancock wines, please visit www.hancockcollege.edu/agribusiness/vineyard.
- AHC -
Caption: Four Hancock wines medaled at the Orange County Wine Competition including the albariño, Torrontés, malbec and syrah varietals.