Hancock Welcomes New Winery Operations Manager
Hancock Welcomes New Winery Operations Manager
Wine industry expert Dave Corey brings more than 20 years of experience to the college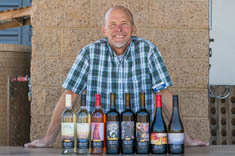 JUNE 15, 2018--The Allan Hancock College Viticulture and Enology Foundation has hired local wine industry professional Dave Corey of CORE Winery to oversee winery operations for Hancock's student-focused winery on the Santa Maria campus. In addition to coordinating student activities with department faculty, Corey will be responsible for winemaking, vineyard practices and wine sales for the program.
"I'm really looking forward to working in an academic atmosphere and being immersed in an educational environment," said Corey. "The viticulture and enology program has so much potential, and I look forward to contributing my expertise in order to take that potential to the next level."
The Viticulture and Enology Foundation supports the educational and cultural programs in the areas of agribusiness, viticulture and enology. The foundation also operates a bonded winery facility on the Santa Maria campus. Hancock is one of only three community college in California to achieve this status.
"My vision for the winery is to expose every person and business on the Central Coast to the great opportunities we provide in both education and retail," said Corey. "We not only offer professionally-made wines, but we are an incubator to supply quality talent to the wine industry. When our students graduate, they will know every component of wine production from growing grapes to selling bottles."
The campus winery is opening for tastings every Friday from 2-6 p.m.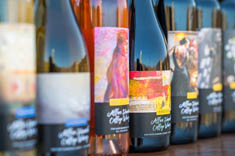 The winery is located in building O, Room 211, on the Santa Maria campus. The college currently has 11 different wines for sale and four wines available for tasting. The tasting flight includes Chardonnay, Pinot Noir Rosé, Pinot Noir and Syrah.
"With more than 20 years of experience in multiple facets of the wine industry, Dave brings a wide range of hands-on experience to our winery facility," said Agribusiness Program Director and Professor Alfredo Koch. "He's grown grapes, produced and sold high-scoring wines, developed a tasting room and has a passion for learning; all of these things will benefit our students."
Corey's educational background includes a bachelor's degree in biology from San José State University and a master's degree in entomology and plant physiology from Kansas State University. Prior to entering the wine industry in 1996, Corey worked in Salinas and the Central Valley in agricultural fields including cole crops, cotton, almonds, citrus, walnuts, kiwi, table grapes, apples and stone fruit. His first position in the wine industry was as a pest control advisor with Cambria Winery and Vineyards and later at Kendall-Jackson Vineyards of Santa Barbara County.
Corey left Kendall Jackson Vineyards in 1999 to begin Vital Vines, a viticulture company providing technical support for more than 20 vineyard property owners, vineyard managers and winemaking personnel in the promotion of sustainable agriculture. He gradually decreased his vineyard consulting work to focus on vineyard sourcing, winemaking duties and winery direct sales for CORE Winery, which he started in 2001 with his wife. Corey is an avid cyclist and an active dad to three boys. He lives in Santa Maria with his family, marking seven generations of history in the valley.
For more information about the college winery, please visit www.hancockcollege.edu/agribusiness
- AHC -

Caption 1: Hancock's new Wine Operations Manager Dave Corey will host tastings on the Santa Maria campus every Friday, 2-6 p.m.
Caption 2: The campus winery currently has 11 different wines available for purchase and four wines available for tasting.