Energize Your Future: Register for Evening Electronics Classes at Hancock, Spring Classes Start Jan. 22
Energize Your Future: Register for Evening Electronics Classes at Hancock, Spring Classes Start Jan. 22
Get a head start on a new career, register for classes today!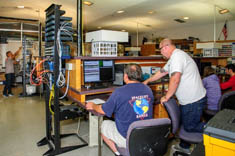 JANUARY 5, 2018--Students can fast track their paths into high-demand careers projected to experience job growth by registering for electronics classes this spring at Allan Hancock College. The classes are designed for students looking to explore potential careers or acquire valuable, real-world skills to apply to everyday life. All five classes meet one or two weeknights beginning the week of January 22 on the Santa Maria campus.
"Electronics are in almost everything we touch, see, hear and use today - from the most elaborate self-driving automobile, television, computer, smart phone, and all the way down to the simplest flashing lights on a child's toy," said Kevin Keinert, Hancock electronics instructor. "All of these things use electronics. Having a basic understanding of how these things work, how to design them and how to repair them is beneficial to everyone and makes students highly desirable to prospective employers."
Electronics classes can help students enter high-demand industries such as computer repair, Information Technology (IT), network engineering, cybersecurity, circuit board repair and design, robotics and automation. According to the California Economic Development Department (E.D.D.), the electronics industry is projected to experience a 22 percent increase in job demand through 2022. According to the E.D.D., the median annual salary statewide for an electronics worker was $61,688.
There are options this spring for students interested in computers and computer support. PC Care and Upgrade (EL 105) teaches students skills to perform basic preventative maintenance and upgrades to personal computer systems. The course meets Thursdays from 6:30-10:35 p.m.
For those interested in receiving a certificate to enter an Information Technology (I.T.) career, the college is offering A+ Certification (EL 320). Students learn how computers work and presents them with a certification of knowledge. Using lab simulators, students learn about every part inside of a computer, and how computers network with other computers. The class meets Friday evenings from 5-9:05 p.m.
"EL 320 prepares students for jobs in computer support and introduces them to the entire world of Information Technology careers, ranging from telephone support to network administration and cybersecurity," said Mark Peterschick, electronics instructor at Hancock. "Being knowledgeable of the most essential tool used in the information age makes students the go-to problem solvers in any office."
Peterschick says completion of EL 320 could also lead to freelance jobs in computer maintenance and repair, jobs that could receive $60 per hour.
Students interested in learning about automation and mechatronics can choose between a pair of courses this spring. Introduction to Robotics and Mechatronics (EL 104) introduces students to basic electronics, design and programming for robotic control. Students learn about the design process of product fabrication through hands-on experience in Electronic Product Design/Fabrication (EL 146). Students can register for EL 146 without completing the prerequisites if they meet with an academic counselor and submit a waiver.
Knowledge of current and emerging computer networking technology, such as LANs, WANs, IP addressing and router programming, will be gained in the class called Networking Essentials (EL 107). The class meets on Tuesdays from 5-10:05 p.m.
The five electronics courses are among the hundreds of Career Technical Education (CTE) courses offered this spring at Allan Hancock College. Other options include welding, machining, manufacturing, business office technology, automotive technology, culinary arts and emergency medical services, just to name a few.
Classes begin the week of January 22. Students can register up until the day before a specific class begins. Financial aid is still available. Online registration is available 24/7 through the college's website, www.hancockcollege.edu. Information about all classes is available online through Class Search, select Spring 2018 and Credit, then click Submit. The class search is real-time schedule of all spring credit and Community Education classes being offered at the college. Students can search by class type, subject matter, location, time of day and more.
New students must first apply for admission to the college before registering for classes. Access to the online admission application is also available via the college website.
- AHC -
Caption: Students interested in careers involving computer, networking or Information Technology can get a head start by registering for electronics courses this spring at Allan Hancock College. Electronics classes meet during weeknights beginning the week of January 22.