Hancock Recording Arts Students Seek Local Musicians to Lay Down Bulldog Beats
Hancock Recording Arts Students Seek Local Musicians to Lay Down Bulldog Beats
Local musicians will record on a Tuesday and receive a demo the following Thursday
JANUARY 9, 2018 -- Allan Hancock College professor of music Christopher Diaz wants to hear the sound of music ringing throughout the college. He is looking for local musicians who want to turn their garage band jam sessions or polished stage performances into professionally recorded demo tracks.
"I recently moved to Santa Maria, and as soon as I arrived, I noticed how multicultural and diverse music is in this area," said Diaz. "We want to hear all genres of music in the studio: rock, hip-hop, mariachi, pop, country, folk, electronic, acoustic, classical and choral. The best learning opportunities come from the most unique musical ensembles, so we are interested in everything!"
Diaz will teach Sound Production Techniques (MUS 116) in the spring. The class will explore the use of digital audio software for recording music and producing audio for video projects, as well as the use of digital signal processors for mixing and mastering recordings. Students will learn all different techniques and facets associated with the recording of unique instrumental combinations.
Hancock's studio features some of the industry's premier recording technology including a solid-state Logic XL desktop mixing console, a Lexicon 224 digital reverberator and effects processor, Audio Technica, Nuemann U87 and AKG C12 condenser microphones, monitors and keyboards. Students can mix up to 30 tracks simultaneously.
"We would like our recording program at Hancock to be as close to a real-world experience as possible," said Diaz. "By teaching a recording class through the perspective of a commercially-functioning recording studio, we hope to provide a unique opportunity to the Central Coast academic community."
The recording process will take place during students' normal class meeting times, Tuesdays and Thursdays from 12:45-3:15 p.m. Musicians will have the opportunity to visit the studio and record on Tuesdays in room E-12 on the Santa Maria campus. The room for the musicians features a baby grand piano and can fit an entire symphony. The recording arts students will then provide visiting artists with a professional demo album—free of charge—during the Thursday class session.

"It's very important for students to network with various generations of music performers and creators," said Diaz. "The relationship is mutually beneficial. The insight our students can obtain from musicians within the professional industry will be invaluable."

The first Sound Production Techniques class begins Tuesday, January 23. To schedule a studio session, contact Christopher Diaz at christop.diaz4@hancockcollege.edu.

-AHC-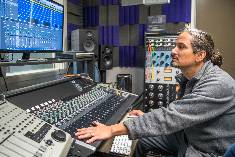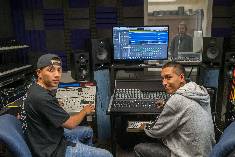 Caption: (Left) Professor Diaz demonstrates the Logic XL mixing console. (Right) Hancock recording arts students Melchor Garcia Elias (L) and Cristo Aguilera (R) review multiple tracks recorded in Logic Pro X. Musicians are invited to sign up for a recording session by contacting Diaz at christop.diaz4@hancockcollege.edu. Spring classes begin January 22.