Four Hancock Fine Arts Instructors Featured in The Arts Fund's New Exhibit, Northern Exposure
Four Hancock Fine Arts Instructors Featured in The Arts Fund's New Exhibit, Northern Exposure
New exhibit opens Feb. 9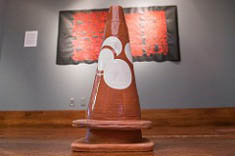 FEBRUARY 9, 2018--The works of four Allan Hancock College fine arts instructors will be featured in an exhibition sponsored by The Arts Fund. Curated by John Hood, a fine arts professor and department chair at Hancock, Northern Exposure showcases the four artists who use diverse media and explore disparate subject matters.
"Art is alive and well in northern Santa Barbara County as demonstrated by this outstanding group of artists," said Hood. "They fully demonstrate the possibilities of what visual art can achieve, while at the same time they make it approachable and inclusive. This exhibit is an opportunity for people to enjoy a unique blend of photography, painting, sculpture, drawing and digital art."
The exhibit features the work of Adrienne Allebe, Emily Baker, Amiko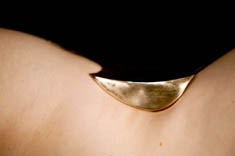 Matsuo and Patrick Trimbath, all instructors within the fine arts department at Allan Hancock College. The exhibit opens Friday, February 9 and runs through March 10 at The Arts Fund Gallery, located at 205-C Santa Barbara Street. Gallery hours are Wednesday through Sunday from 12-5 p.m., and Monday and Tuesday are by appointment only. The exhibition is free and open to the public.
Four pieces created by Allebe are featured in the show. Hatch is a large acrylic painting on a 45" diameter circular wood panel. The painting features bright colors and was created over an older painting. Nightshift, Snafu and The Hunt are three abstract drawings on paper. All three began with layering grid patterns and expressive techniques that gradually built detail until the details formed a story.
"My main goal in all of my work is to create objects that visually stimulate myself and the viewer," said Allebe, who previously taught at Cal Poly, San Luis Obispo. "Most of my work is abstract because I enjoy the open-ended interpretation of subject matter more than artwork that is quickly recognizable. I also enjoy creating ambiguous spaces that move in and out, where it is not obvious what is far away and what is near."
Pyrometric is artwork by Matsuo, an assistant professor at the college. The piece depicts ceramic traffic cones that reference the small pyrometric cones placed in a kiln to indicate when ceramics firing has reached the appropriate temperature. The drop pattern drawings are made with fire retardant and ash from wildfires.
"Pyrometric examines shifting boundaries between people and nature in fire-prone landscapes," explains Matuso.
The exhibition features multiple artwork created by Baker: Corporeal Topography – Pit; Corporeal Topography – Pool; Corporeal Topography – Pile; Intern DysTrophy; and Sacrifice.
"The Corporeal Topography pieces are photographs that explore space around the body," said Baker. "I seek to visualize the space by filling the body's voids and cul-de-sacs with pools of bronze. People will see the skin as a malleable medium, stressing the difference between an organism and an alloy."
Four paintings in the show, Wreckage Ring, Firestarter, Principle Decline and Shatter-sphere, are the works of Trimbath, an assistant professor at the college. His paintings feature cubes, spheres as metaphysical forms caught in the very moment they exploded into nothingness.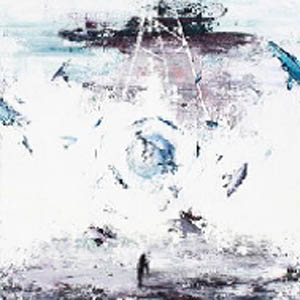 "Although the natural world is referenced in various ways, these paintings never depict a specific place. They are articulated in a manner that, for me, evokes the conception of a place or space. In this way, they feel more like a manifestation of my imagination," said Trimbath.
The four featured artists are thrilled at the opportunity to share with the public their artwork and showcase the diverse talent of Hancock faculty.
"None of the work in this show looks the same. The art reveals diverse approaches that truly is impressive for such a small community and department," said Allebe. "The exhibition reflects that the Hancock art department values diversity among its staff, and that students who take classes here can find instructors who work across a variety of disciplines. Therefore, students can learn different approaches to art making, not just one style."
"It is important to showcase personal work so students realize you face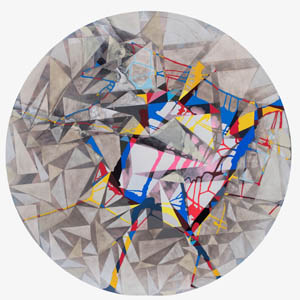 similar struggles daily. Art making is hard and I think this exhibition shows our students we are active as artists, in addition to being active and dedicated teachers," added Baker.
The artists also praised the unique chance to collaborate with their colleagues.
"Although I've had this full-time faculty position for a couple of years now, I still feel very new to it in many ways. Because of this, I feel a connection with all of our other new faculty, and it is very exciting for me," said Trimbath. "It feels like we are this new generation of faculty that gets to continue all of the great parts of our program that our retired and past faculty have worked so hard to create. We get to carry the torch and give it shape as we move toward the future. It is an honor to be a part of that."
The Arts Fund was established as a nonprofit in 1983. The organization's mission is to create, fund and administer programs that foster the arts for the people of Santa Barbara County, to maximize the effectiveness of arts resources and to nurture collaborative relationships between arts organizations. Please visit www.artsfundsb.org for more information.
- AHC -
Caption 1: Pyrometric, Amiko Matsuo, assistant professor
Caption 2: Corporeal Topography, Emily Baker, part-time instructor
Caption 3: Shatter-sphere, Patrick Trimbath, assistant professor
Caption 4: Hatch, Adrienne Allebe