Hancock Football's Taupule Asotau Signs National Letter of Intent With Western State Colorado University
Hancock Football's Taupule Asotau Signs National Letter of Intent With Western State Colorado University
Asotau plans to earn a bachelor's degree in kinesiology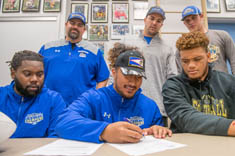 FEBRUARY 8, 2018--Hard work and perseverance paid off for Allan Hancock College linebacker Taupule Asotau. The sophomore signed a National Letter of Intent this week to play NCAA Division II college football at Western State Colorado University.
"Western State Colorado was the perfect fit for me and I am so grateful for this opportunity," said Asotau, who suffered a season-ending leg injury four games into the 2017 season. "I have put in so much time and hard work into my recovery and it feels great to have that pay off with a scholarship."
In seven games as a freshman, Asotau recorded 19 tackles, two sacks, forced one fumble and broke up two passes. Last fall as a sophomore, he recorded nine tackles, including two sacks, before suffering a season-ending injury in the fourth game. He also forced one fumble and broke up a pass for the Bulldogs, who finished the season 8-3 and won the program's first outright conference title since 1997.
"He had the ability to be an all-conference and all-state linebacker if he did not get injured," said Hancock Head Coach Kris Dutra. "He is a great man, an exceptional athlete and will do very well at the next level."
Asotau graduated from Tafuna High School in American Samoa. He came to Hancock three years ago for the chance of tackling this very opportunity.
"I am proud that I accomplished what I came all this way to do. This was always my goal, but it still feels unreal," said Asotau, who plans to earn a bachelor's degree in kinesiology to become a physical therapist or personal trainer. "I am grateful the coaches, faculty and staff at Hancock gave me an opportunity to play and pursue my dream."
Led by Head Coach Jas Bains, the Mountaineers compete at the Division II-level and belong to the Rocky Mountain Athletic Conference (RMAC). During the 2016 season, Western won seven games, the most wins for the program since 1998. The Mountaineers ranked in the top-10 in Division II for scoring defense and red zone defense. Running back Austin Ekeler signed with the Los Angeles Chargers following the 2016 season.
Asotau will be reunited at Western with Dominic Chance. The Atascadero High School graduate already signed with the Mountaineers and enrolled in spring classes. A tight end for Hancock in 2017, Chance was named the Pacific League's Offensive Player of the Year and received all-state honors. He caught 10 passes for 168 yards and four touchdowns for the conference champion Bulldogs.
"Dominic's physicality had a major impact on the conference and our success. He is very strong, versatile and intelligent," said Dutra. "Our running game was a big reason why we won the league title, and we ran the ball behind him nearly every play."
Hancock's all-conference quarterback Jimmy Kelleher has also signed with a four-year university, Wagner College, an NCAA Football Championship Subdivision (FCS) program located in New York. Kelleher, who grew up in New York, threw for 1,392 yards and 11 touchdowns as a sophomore for Hancock in 2017.
Wagner won Northeast Conference co-championships in 2012 and 2014. The Seahawks appeared in the FCS playoffs in 2012 when they advanced to the second round.
Several other Hancock football players have received offers to play at four-year universities. The college plans to host additional signing ceremonies for student-athletes in the coming months.
- AHC -
Caption: (Front row, l to r: Hancock offensive lineman Lesone Smith, linebacker Taupule Asotau, offensive lineman Jamil Viaud; Back row, l to r: Hancock Head Coach Kris Dutra, Assistant Coach Seth Damron, offensive lineman Jacob Rothanzl)